When American Girl came out with their doll nail polish, I had a lot of questions. Was it lame? Does it work? Does it really wash off with water?
For only $10, I decided to give it a try.
(Just kidding, I got it for Christmas.)
Here we have the unopened doll nail polish package, an American Girl case I bought a few years ago that contains doll-sized washcloths, and a small bowl of water.
After taking the plastic off, the nail polish and nail clippers are attached to the package with elastic you can cut, while the two nail filers can slip out.
Here is everything out of its package! For $10 and from American Girl, it's a pretty sweet buy.
The first thing you'll want to do is cover the surface on which you'll paint your doll's nails with something like a napkin or a towel.
Then roll up your doll's sleeves, if she has any. Perfect!
These little nail clippers are SO. CUTE. My only complaint about them is…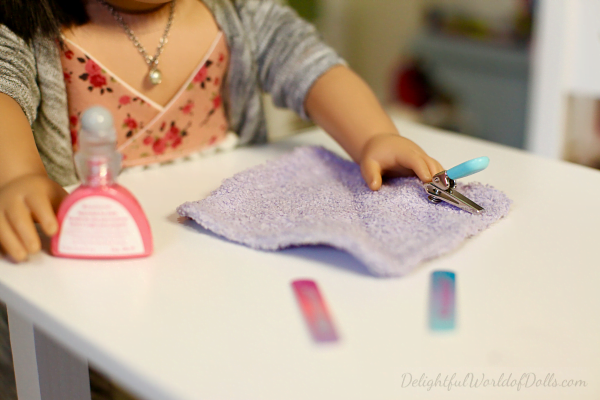 You can't really… "clip" with them. You can swivel the handle around, but there's no clipping action.
I was very frustrated. XD
The nail filers are super cute (and they say "American Girl" on them, which automatically makes me love them), but I wish they were a little bigger.
AND NOW THE MOMENT WE HAVE ALL BEEN WAITING FOR.
The nail polish is:
A good consistency. It's not gooey or runny, but it is a little thin.
Not very bright. I wish it was a deeper color so it could stand out more, but it looks good on dolls with darker skin.
One hand all done!
The major downfall of the nail polish:
It takes quite a while to dry.
Quite. A. While.
For me, it took almost thirty minutes.
The most important thing to know:
Even when the polish is completely dry, it will still be just a tad sticky if you press hard on it, even over 24 hours later. I think that's because if it dried any harder, it wouldn't be as easy to get off.
So don't worry if it's been over an hour and things are just a teeny, tiny bit sticky. It's dry and won't stain your doll's clothing; it's just not rock-solid hard.
The secret message:
Just kidding. Mostly.
The back of the nail polish bottle has papers that fold out. I didn't realize this until my finger brushed against the layers and they unfolded. XD
On the paper is basic instructions in different languages and what to do if you have an allergic reaction. I only have a very mild allergic reaction to Everlasting Sunshine Suave conditioner, so I wasn't worried. XD
All dry yet? An hour later, I decided to see how easily it can be removed.
The two ways to remove the nail polish:
METHOD #1:
Wet a small corner of a washcloth in some water.
Wipe your doll's nail thoroughly. You'll have to get in there with a little more force to get the corners and crevices.
The nail polish, even dried 24 hours later, is very easy to remove. The only thing that will remain is the occasional glitter sparkle or two.
The first two nails are all clean!
METHOD #2:
Dip your doll's hand in water.
I don't know where I came up with this method. I was just experimenting and thought a "what not to do" section would be helpful, and this came across my mind as something extremely dumb to do.
But then I realized how helpful this was. XD
Look at how much of the nail polish has come off already simply by being in contact with water!
Wipe the remaining nail polish off with a wet washcloth. It will be even easier to remove.
Careful about what washcloth you use! I was not. My special AG doll washcloths probably weren't the best to experiment on. Luckily, the AG doll nail polish washes off easily and my washcloth is all clean now!
Likewise, if you get the nail polish on your doll's clothes, it will wash off easily as well. I wash any doll clothes by gently running them under cold sink water.
Pro tip #1:
Don't attempt a second coat once the first one is dry! It will be utterly useless.
When you try to add a second coat, the wetness of the new polish you're trying to add will activate the polish on your doll's nail already and wipe off. It's better to do a heavy first coat instead.
Pro tip #2:
The nail polish looks amazing on dolls with darker skin!
Pro tip #3:
If the nail polish is safe on dolls' nails, you can use it for other things on their vinyl, too, like face paint. I don't really know what I was going for with this pattern. XD
You could create hearts, butterflies, Rudolphia the pink-nosed reindeer…
Pros of the doll nail polish:
washes off easily with water
look great
your doll can finally wear nail polish that won't stain her!
Cons / important info:
it will take quite a while to dry, nearly 30 minutes
it will not dry completely rock-hard solid
the light pink color doesn't look as good on dolls with lighter skin
remember to dig in around the edges of your doll's nail when removing it
The American Girl doll nail polish was a genius accessory and adds so much to your doll's look. It's indeed easy to wipe off and, at long last, doll fans now have nail polish that won't permanently ruin their doll's skin!
What do you think about American Girl's doll nail polish?