TEN YEARS.
Can you guys believe that?
I know I sure can't.
It feels like just yesterday I was shooting the photos for Heads Up, and I got really emotional as I took these celebration photos today, remembering that time.
November 4, 2012, I made my very first blog post.
Most of you know the story!
I was inspired by a blog called American Girl Doll Central on Blogger (the site has since been deleted), also called Julie's Jumbles, and another blog called American Girl Fan to post photostories.
I wanted a Google Picasa album like Julie's Jumbles had, so I asked my dad. He wasn't going to let me.
But God said to him, "Let her have a blog."
Only He would know what that would do for my life and mean to me!
On November 2, 2012, we created the blog. I wanted to name it Molly's Madness, but it was taken. So was Molly's Musings.
Then my Dad came up with the name Delightful World of Dolls, and I immediately loved it.
We created DWOD on a free platform called Blogger, pictured above. Way different than now, huh?!
On November 4, 2012, I published the first post—the title of which was completely copied from Julie's Jumbles's first post. XD

January 2013
It started as a fun hobby.
I was really active in the online world of doll collectors at the time, and blogging was all the rage, so nine year old me had a GRAND ol' time.
May 2013
I blogged almost every day—sometimes twice in a day!
Writing stories, taking photos, making stopmotions of, making crafts for, and taking videos of my dolls was one of my absolute favorite things to do.
February 2013
I was able to release my creativity and just have the time of my life, while interacting with all my online doll blogger friends!
I spent my days crafting, creating, sewing.
Coming up with stories on the fly, taking photos, using every bit of my creativity in every way possible.
I made hundreds of videos and stopmotions.
I would work on DWOD almost every single day!
I vowed in my heart, and knew, that I would never grow out of dolls. That I would blog even when I was an adult.
May 2014
My passion for blogging never faded or wavered once. It was always something constant in my life. There was always the next DWOD project to work on or post to make, even when I moved halfway across the country.
My doll collection grew, and so did my storywriting and photography.
As I got older and the more I blogged, the more my creativity advanced.
From photostories to photoshoots, crafts to stopmotions, videos and movies to polls and contests and giveaways, I did everything imaginable that you could do with American Girl doll content creation.
October 2016
Right before I had been blogging for four years—and I was now 13—my blogging grew serious.
Instead of just a fun hobby, it now became something serious for me to strive for, and I wanted to make it successful and the very best it could be.
I fell in love with blogging even harder.
October 2016
Day in and day out, all I did was blog (or work on my novel; the writing skills of which all my blog posts helped me develop).
April 2017
I would pull all-nighters, I would stay up late, I would work from sunup to sundown and love every single bit of it. I poured money into it.
August 2017
I was devoted.
July 2017 | Image credit: Julia at Dolls N' All
It was worth it. It got to the point in 2017 where I was living on a creative high at all times!
I felt like I was in a utopia. I was absolutely in love with blogging and couldn't get enough of it.
July 2017 | Image credit: Julia at Dolls N' All
I loved interacting with each and every single one of you, reading your blogs, replying to your comments, making amazing friendships, and being part of this incredible community.
July 2017 | Image credit: Julia at Dolls N' All
I absolutely loved every part of it. It was my world.
I even had the privilege to point many to salvation through Jesus, because I wanted to impact others for eternity. God is so good to use the things I love to do as a ministry!
Now, most of you reading this have read my recent blog post.
You know that in 2018 I came down with health issues so severe I had to stop blogging for almost three years.
My desire to blog again kept me fighting through the worst storms of my life for recovery.
But when I recovered enough to return to blogging in 2021, it wasn't quite the same.
I wanted to enjoy it to the same extent I did—I still loved my dolls and I loved creating, so what was the problem?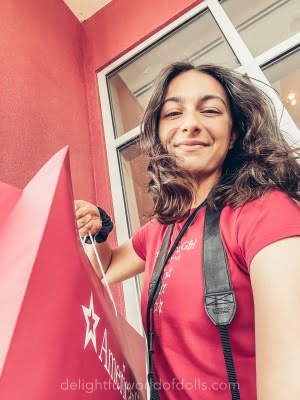 I hadn't grown out of my dolls. In fact, I bought more.
Why wasn't I getting the same fulfillment and enjoyment from blogging about them?
I beat a dead horse for months, forcing myself to blog but feeling exhausted and devoid of fulfillment.
This specific day I took the above picture, I edited the photoshoot feeling blah. I didn't post again for three months.
Even though I started a DWOD Instagram, got a partnership with a doll Etsy shop, and had a sponsored giveaway… as AMAZING as that all was…
It just didn't feel the same.
God had to speak through my dad to tell me to stop trying to recreate the magic—I wasn't going to get that same fulfillment.
The grand ol' days of DWOD had passed.
Coming to terms like that was like dealing with loss. I had to grieve over that like I had physically lost something I loved very, very deeply. Yeah, I cried.
Someone God used as an example was my dear inspiration Jessica from American Girl Fan. I adored her blog and would read it all the time before I had a blog.
She, too, ran her blog for 10 years, then got busy with other passions and had to move on.
That helped me not feel alone.
I still grieved. But God didn't leave me with that. He said He had bigger and better things in store for me.
The next six months—as you know if you read my recent post—were full of so much goodness that I learned that God is not limited to only one means of bringing me joy.
God made my last senior semester of high school so incredible that it made up to me all those years of being sick.
And He did it in ways not even I—with my UBER creative writer brain—would have dreamed up in a million years.
So God only leads forwards, never backwards!
He doesn't give us one great time in our life and then our life sucks after that.
Life with God, following after His plan and purpose for you, only gets better and better, not lamer and lamer (Proverbs 4:18)!
God said to my dad that my time doing Delightful World of Dolls was only a little taste of what He would do through me in the future.
I still can't imagine that. If I'm convinced my ten years of blogging were the best thing that could ever happen to me… imagine how much greater the future is!
As I celebrate ten years of blogging today, I do admit I had to fight some tears.
But today is not a time for me to look back and be sad, but look back and be glad.
Because if golden blogging days were so amazing, and it was only a little taste—I can't even imagine what the future will hold as I obey God's leading!
Today, I celebrate DWOD's ten-year anniversary, yes—and I cheer to God's promise of an even better future!
Happy 10-year anniversary, Delightful World of Dolls!
Fun DWOD stats!
My very favorite posts of all time:
P.S. I reply to comments any time on any post, even old ones, so feel free to comment away!
Hidden DWOD lore you may not have noticed 
1. The stuffed animals that appear in some DWOD stories are part of the Stuffed Animal Kingdom, which Celina visits!
2. Canonically, the DWOD dolls and the Barbies who appear in some posts have always been rivals, as seen here, here, here, and here.
3. Is Snowy alive? (look at his little wink!) I guess we'll never know!
4. Jasmine used to be a big time bully throughout early posts until she was radically changed one Christmas!
5. Canonically, Molly, Josefina, Cécile, Emelie, and Jasmine are all gymnasts, as seen here, here, and here (and tons of other posts where I flipped my dolls around, haha!)—Ellie was the first doll who was not in gymnastics, as seen in this AGSM! Josefina then became their coach—"Coach Josie"—as seen here.
6. My brother, Russell, is often called Uncle Russell by my dolls in some posts, as seen here!
7. Delaney (Del) and Mia from Dolls N' All are lowkey frenemies.
8. Del and Ellie started out as enemies, but then also grew to lowkey frenemies. Although they will not admit the friends part, it's obvious they do great as buds!
9. Molly, Josefina, and Cécile are adopted sisters. They are not related to the others.
10. Taryn and Delaney are sisters—the crazy saga of how they came to both live here is recounted here and here!
11. Emelie has a British accent on and off throughout the years of posts. Canonically, she has one, but it's faded the longer she's been here.
12. Cécile used to be a brat, but she straightened out and Jasmine became the brat instead!
13. Jasmine and Del are sworn enemies (here, here, and more!). Delaney even planned to give her a spider for Christmas… but that backfired bigtime!
14. Cécile and Jasmine are best friends; Chloe and Ellie are best friends; Del and Katy are best friends.
15. Katy Christine has two nicknames—Katy and K.C. She was named after K.C. Cooper in the Disney Channel show K.C. Undercover. Katy's last name is also Cooper!
16. Canonically, Molly, Josefina, and Cécile are my adopted children; they have my last name in their profile bios, and that's why they are adopted sisters.
17. Ellie used to be named Joy. Then I changed it to Ellie-Mae. Now it's Ellie, but her middle name is Mae. I wanted to name her Maisie after Among the Dolls's Maisie, but I didn't want to copy at the time.
18. However, Delaney is named after She'll Go Down in Herstory's Delaney!
19. Emelie's name used to be spelled like Emilie. I changed it to Emelie in 2016. I spelled it Emilie simply because 2013 me thought "Emily" was too basic. I was really into renaming character dolls at that time, so Emelie, Jasmine, Ellie, and Taryn are all renamed character dolls (as is Sora).
20. Emelie and Jasmine used to stay in a separate room—under the desk in my parents' room here—because I didn't have enough space for all my dolls to have one bedroom.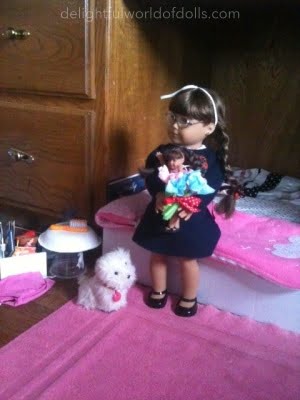 21. That is the same place Molly, Josefina, and Cécile used to be (here and here).
22. Emelie and Jasmine had a super temporary room here.
23. Canonically, the dolls were adopted from the "American Girl Doll Orphanage"—but Sora lives with a foster mom. I haven't finished the photostory series where she comes to live with the DWOD fam (spoiler!) but of course she does!
24. DWOD used to be on Blogger. In fact, the old blog is still up! With the help of my dad I imported things over to WordPress in 2013 and have been blogging here ever since.
And that's it. Happy 10 years to DWOD, and to you—my most amazing friends! I am so grateful for all of you, whether old or new!
You mean the world to me, and so does your encouragement.
Sometimes I reread old comments and it makes my day all over again.
I'm so privileged that you guys enjoy my blog, and I hope you stick around for any posts I make in the future.
Yep, that's right—DWOD is not shutting down! I don't quite feel it's time for that yet.
While it's not my main focus like it was before my health crash, it still holds a place in my heart (and always will) so I'm leaving it open for when I can find the time and energy amidst my crazy college schedule to make a post.
I still love my dolls so much, and am such an American Girl fan!
Lately I've been drowning in the 90's Pleasant Company nostalgia and plan to reread a ton of old AG history mysteries over the summer.
I recently read some of an Innerstar University book online. And one of the illustrations for Caroline's books was my phone background for like, two months!
And don't forget you can always contact me here!
If you would like my Instagram, let me know in the comments and I'll get it to you!
On a final note, I want to thank my family for all of their support throughout these years.
They have helped me so much, not only with their permission and encouragement, but also their financial aid and time they have poured in to help me.
Especially my dad, but both my parents have been nothing but supportive.
Today is my mom's birthday, but she constantly encouraged me to celebrate this 10-year anniversary and even made a toast to it before we celebrated her birthday. She would almost always buy any craft supplies I needed.
And my siblings have (almost) always been willing to lend a helping hand for my photoshoots.
I love you so much, family! You are part of this!
And my dear friends, I love YOU guys so much! DWOD would not be here without you.
I hope YOU throw yourself a celebration today, for being so awesome and amazing. For making this a community that means the world to me!
I had the time of my LIFE making posts for you guys, and it is such an honor to blog for and with you all!
The best days are ahead of us!
Love,