Decorating for Christmas. That's what everyone was doing.
Ellie and Jasmine put up decorations in the sitting room.
Molly was the first to get the box of ornaments and silver beads from the attic.
Chloe adored the long beads and chattered about how she was going to string them creatively on the tree.
Josefina sat near the tree and fluffed its branches.
Cécile, Katy Christine, and Emelie were working together to string the lights from the top bunks.
Even my sister Del was being mildly helpful instead of totally destructive.
Me? I shook my head and squinted at the screen. I had to finish editing my photos!
"Taryn!" Del shouted from the top bunk. "You wanna help decorate instead of slave away on your computer?"
The lights slipped from her hand and Cécile, Katy, and Emelie all shouted until she grabbed them.
"Apologies on the lights' behalf," Del said. "They couldn't handle my awesomeness."
Cécile groaned.
"I'm busy," I said. "I made a personal goal that I would have these photos edited, and I'm sticking to it."
"But it's literally Christmastime and we're decorating. Don't you want to be part of the fun?"
I sighed. I did want to be part of the fun.
But my photography was important to me, and I had gotten behind on editing this batch. I promised myself I would finish today.
How was I supposed to know the entire household was going to decorate for Christmas today? Cécile had already made us all get dressed in our Christmas best for photos, wasn't that enough festivity for one day?
"Sis, please?" Del said.
That made me look right at her. I loved when she called me sis. As immature as she seemed sometimes, she was my big sister, and I looked up to her.
It reminded me of one of the most painful times Del had asked me something with such sincerity: five years ago.
On Christmas Day I'd been sent away from the orphanage—away from Del—to live with everyone here. She had asked me to stay strong.
I missed her so badly, I broke out of the house and almost ran away.
All I wanted was to be together with her for Christmas, but I didn't see her again for months before she finally came to live with us.
I bit my lip. I would have given anything to be together with Del for Christmas.
And now she was here, and had been, for multiple Christmases.
How many of them had I taken for granted? 
I slammed my laptop shut. "Anything for you, sis."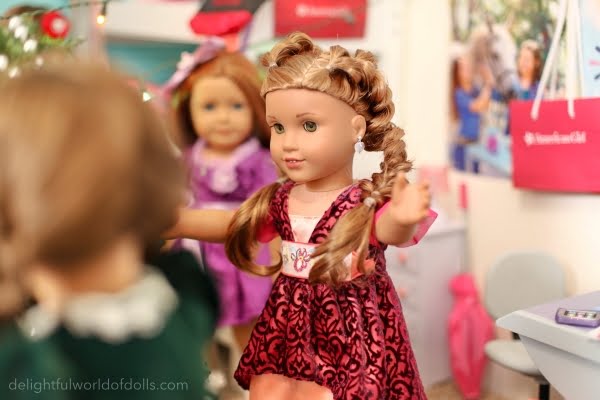 I hopped out of my desk chair. "Ready to help!" I said.
Molly beamed. "Taryn, you're here! Want to help us decorate the Christmas tree?"
I grinned. "I know exactly what this tree needs!"
"What's that?"
"Be right back." I ducked under my desk and pulled a long string out.
"Lights!"
Molly laughed. "You're all tangled."
I laughed, too. And it was a lot more fun than making my photo editing deadline.
We decorated the tree until Cécile stepped back and said, "It's time to put the star on. Katy, Del, you two are still the newest, so you can put the star on again."
"Again." Del grinned and scampered down the ladder from adjusting the lights. "We've been the newest here for, like, four years. I think it's high time we added someone else to the—"
Ellie glared at Del. Del just waggled her eyebrows.
Del dragged furniture over to the tree despite Cécile's protests. Katy and Del climbed on top of the furniture and wobbled a bit, but they grasped the star together.
"On three!" Del shouted.
Katy nodded. "One—"
"Three!"
Katy and Del shoved the star on top of the tree. It was crooked, but Del was beaming. "Nobody does a better job at this than us, K.C."
They climbed down—without crashing, miraculously—and we all gathered around the tree to admire our efforts. Del stood next to me.
I scooted closer to her and leaned my head against hers. "I'm glad you're here," I said, quietly.
We both gazed at the tree.
"Me too, sis."
It was going to be a very merry Christmas this year. ♥
---
MERRY CHRISTMAS, my dearest friends!
Madi here!
Gosh, you all mean so, so much to me and I love you all so much.
I got some wonderful Christmas gifts today (including a new doll!) and I will definitely tell you all about them in an upcoming post sometime!
Taryn's story about things coming full circle reminds me a lot of my own life and how God has brought conflicts I've faced almost full circle as well.
This year I've reflected on how grateful I am for where I'm at in my recovery journey, for all of you, and being able to post here again.
It wasn't like this for the past three Christmases—I was too sick to do any of this, and I missed it dearly. I love you all!
I'm excited to see what posts I'll make in the new year and how my posting schedule might change.
I have a lot of work to do to prepare for Bible college in the fall, but there will always be time for my dolls!
So don't worry—I'll still be around, things may just look different!
Reminder for the Christmas card exchange: I can still reply to your card even if I get it after Christmas!
I've had so much fun sending cards back to you all and I have LOVED everything you've sent me. It truly makes my day each time I check the P.O. box and see your cards arrive!
The winner of the Who Has the Best Christmas Outfit? poll: There were a total of 90 votes, and the winner—who won by only one vote!—was ELLIE!
I'm so glad you all liked her outfit, especially because of how apprehensive I was about it at first!
Second place was Molly and third was Jasmine.
Del, as you can imagine, is extremely unhappy about having lost to both Ellie and Jasmine, but I'm sure she'll get her revenge somehow. ?
Other Christmas posts: Still in the Christmas mood?
You should definitely check out:
My Christmas AGSM from 2015, O Christmas Tree
My Christmas AGSM from 2013, A Christmas Miracle
My dolls' hilarious Christmas antics from 2016, The Countdown Chronicles – Events 1-15
Even more of my dolls' hilarious Christmas antics from 2016, Silent Night – Yeah, Right!
The famous Christmas Craft Collab, CCC Recap & the Final Countdown Chronicles
Year two of the famous Christmas Craft Collab, Christmas Craft Collab Recap 2017
The photostory series mentioned in this post, I'll Be Home for Christmas if Only in My Dreams
Another Christmas photostory series starring Del and Katy, The Secret Santa Disaster
And PLENTY more in the Christmas post category!
Tonight, I will be watching the Samantha movie I got for Christmas in 2015! I haven't seen it since around that time (six years!), so I'm really excited to view it again.
I've rewatched all of the other main historical AG movies this year (Felicity, Kit, Molly) so I'm excited to finish it off with this one! Perfect holiday movie. ;)
This is me and the new doll I got! Can you guess who? No hints… just the photo!
I love you so much, and never forget Jesus loves you!
Then the angel said to them, "Do not be afraid, for behold, I bring you good tidings of great joy which will be to all people. For there is born to you this day in the city of David a Savior, who is Christ the Lord. And this will be the sign to you: You will find a Babe wrapped in swaddling cloths, lying in a manger."

And suddenly there was with the angel a multitude of the heavenly host praising God and saying:

"Glory to God in the highest,
And on earth peace, goodwill toward men!"

Luke 2:10-14
Merry Christmas, my friends! How was yours?