Hey, everyone! This week, it's on to stop motion like never before. Because I'm actually very behind and… oh dear. The release date. It's so close.
And the trailer – it's got to come even sooner! *screams*
Is it OK if I share some photos I've taken along the way the past couple of weeks?
First, I HAVE to share this — a couple of weeks ago, my brother woke me up in the morning and then took a picture of my dolls in lightsaber poses from the doll-sized lightsabers I won in Lucky's giveaway (thank you so much again, Lucky! ♥♥♥). He ends up posing all of them, and I lean over the edge of my loft bed to THIS. ?
(Hey, there's Katy Christine in the back by Emelie! Wait… WHO IS THAT OTHER DOLL WITH THE DARK HAIR AND BROWN EYES IN THE TRULY ME MEET DRESS AND PLAID SHIRT STANDING RIGHT NEXT TO K.C.?!?!?!)
UM… ONWARDS!
In trying to figure out how to sew the costumes, I end up with a TERRIBLE test-dress that I turned into a cardigan. Then I made another test shirt out of the same fabric and turned it into a V-neck… with terrible seams so the shirt fell apart quickly. LOL!
I did about three test costumes total… none of which turned out AT ALL. But will you believe that after buying the exact fabric  — the bare minimum of what I needed so I could not afford to make any mistakes — and then making the real costume, it turned out almost perfectly?! I worked so hard on it and awaited the results with bated breath — I was so happy to see the finished product! I'm so excited! Now I just need to sew… oh, three more. *wails*
And no, I can't post a picture of them. That would give away a HUGE part of the plot. ;)
This is when I first began the outside scenes… gosh, they took forever! I almost have the first big chunk of them done… now I just need to film the "beginning-climax" (if there is such a thing) and then only a few more outside scenes to go. The rest is INSIDE — with AC, controlled lighting, an actual set, and NO wind, ants, spiders, bees, or any bugs for that matter, dog poo… or scratchy concrete to ruin my dolls. :(
HAHA! I filmed this just a few days ago — Molly and Jasmine are at it again! I think they secretly really enjoy being known for their constant arguing… and sometimes attacking. XD Cécile, the most motherly of my dolls, is trying in vain to get them to stop… but you know stubborn Molly…
… Before too long, the tables have turned. ?
Fun fact: in filming this scene, I kept smelling something awful the entire time… I was thinking "Is that me?!" Then I happened to look over and realized I had stepped in a pile of dog poo in my haste… *sigh* And we don't even have a dog. Apparently, random dogs really, really love our property. ?
And then, you know, a random bee decides to see if Cécile happens to have any pollen handy… right in the middle of my filming…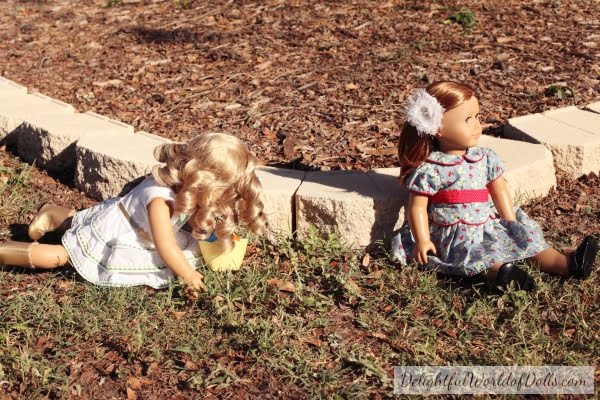 What do we have HERE? Only the second scene of Master Ninja-Spy Chloe Zoey Carter stealing yet more Easter eggs from her fellow enemies I mean friends, of course!
Emelie: *gasps* "ALRIGHT, WHO TOOK MY EASTER BASKET?!"
Ahh, I love what determined Taryn tells pessimistic Jasmine in this scene; "Watch me."
Watch you what, dear?
OH MY! THAT'S DANGEROUS!
Why do you think she's climbing the tree?
*looks through other photos* Ahh… no.
That is all. >:)
What do you think the upcoming stop motion movie is about? Are you working on any doll projects? I'd love to hear!
I hope you are having a wonderful day! ♥
Much, much love,