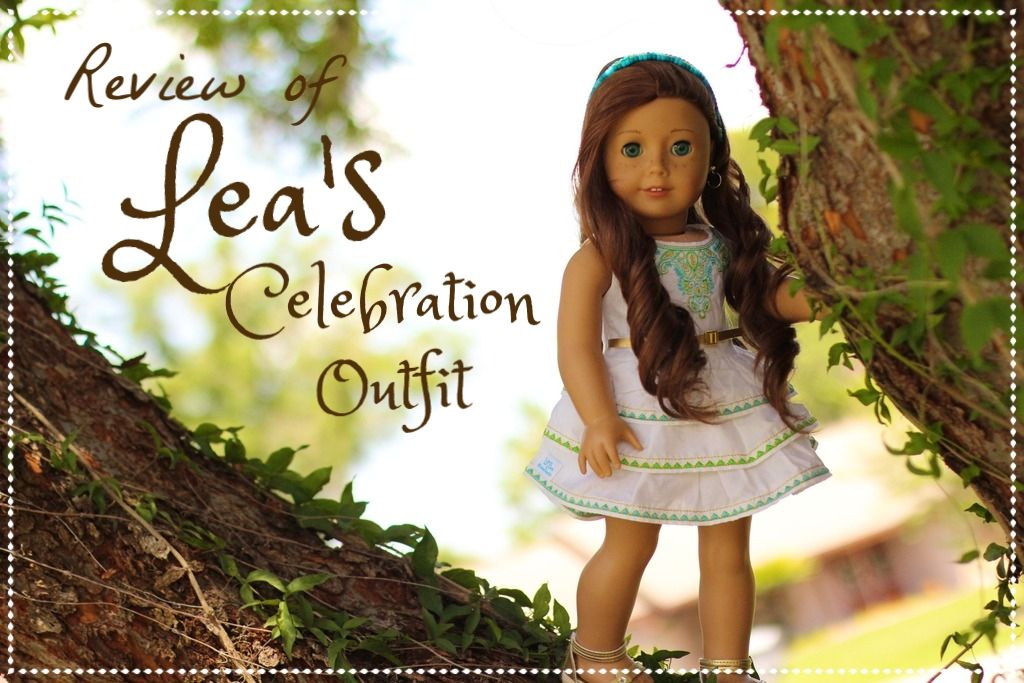 That's right! We're finally getting to it! :)
Oh, and it's me, Molly-Anne! I'm only your favorite mini doll ever, in case you've forgotten. I know it's Mini Doll Monday but Madison remembered she has a review to do of the new doll outfit she bought at the American Girl store.
Of course, it wouldn't be Mini Doll Monday without a mini doll, now would it? And what better mini doll to feature than my lovely self? ;)
I'm just kidding, of course. The other mini dolls are all awesome – they're only my greatest friends! Which is why we can't hurt their feelings. Let's keep the fact of how I'm your favorite mini doll a secret, shall we?
Onto the review. Jasmine really, really wanted to model this outfit for you all. Madison agreed, since the outfit she was currently wearing for our newest stopmotion wasn't too annoying to get on and off. (That's right, a new video is in the makings! Stay tuned.) :)
For the mini doll part of today, I'm give you all another one of my challenges. Amidst the review, you will see pictures of the outfit we're reviewing. In a few of the photos, I'll peak in. Can you spot me in the photos? If you can correctly tell us in the comments how many photos I was in, you'll get your name up here! Who's going to be first place? :D
I'll hand it off to Madison for the review now. Remember to be looking for me in each photo!
Hey, y'all! Madi here. Doesn't Jasmine look great in Lea's Celebration Outfit? I love the way she looks in it. It's just so pretty!
And see how tiny that watermark is? My watermarking plug-in is going crazy, so you'll see different sizes throughout the pictures for some odd reason. It's so weird! I worked on it for an entire hour, and it won't be the right size unless I put the images on this setting that downsizes the quality terribly. So I'll just have a super tiny watermark until it gets fixed. :P
(What is that watermark doing? Now it's big? What?)
Onto the review. Can you spot Molly-Anne? ;)
The dress itself is white with three tiers on the skirt. It features beautiful embroidery and a gold belt.
The bright, tropical colors of the embroidery suit Lea's Brazillian theme perfectly.
This has to be one of my favorite parts of the dress. Look how detailed and gorgeous the embroidery on the top of the dress is. I love it!
The head band is made of beads and is attatched at the bottom with elastic, so it stretches over your doll's head.
It goes really well with the dress.
The shoes are gold to match the belt. They feature a little butterfly on the toe with a rhinestone in the middle of it.
The belt is not a real one that goes all the way around. It's sewn to the dress and attatches with it in the back with velcro, as you can see.
Lea Clark's tag is on the bottom left hand corner of the dress.
Overall, Lea's Celebration outfit has to be one of my very favorites! I honestly love it.
A few more photos of Jasmine modeling it…
 That watermark just ruined the photo. -__-
The only complaint I have is how wrinkled it was when I took it out of the box. It's creases kinda weird now, so the skirt does not flow out as nice as it should.
"You're in too many photos! I need to be in more so they can have a better challenge!"
(that awful watermark!)
"Molly-Anne, you're making it so easy for them. Everyone can see you!"
;)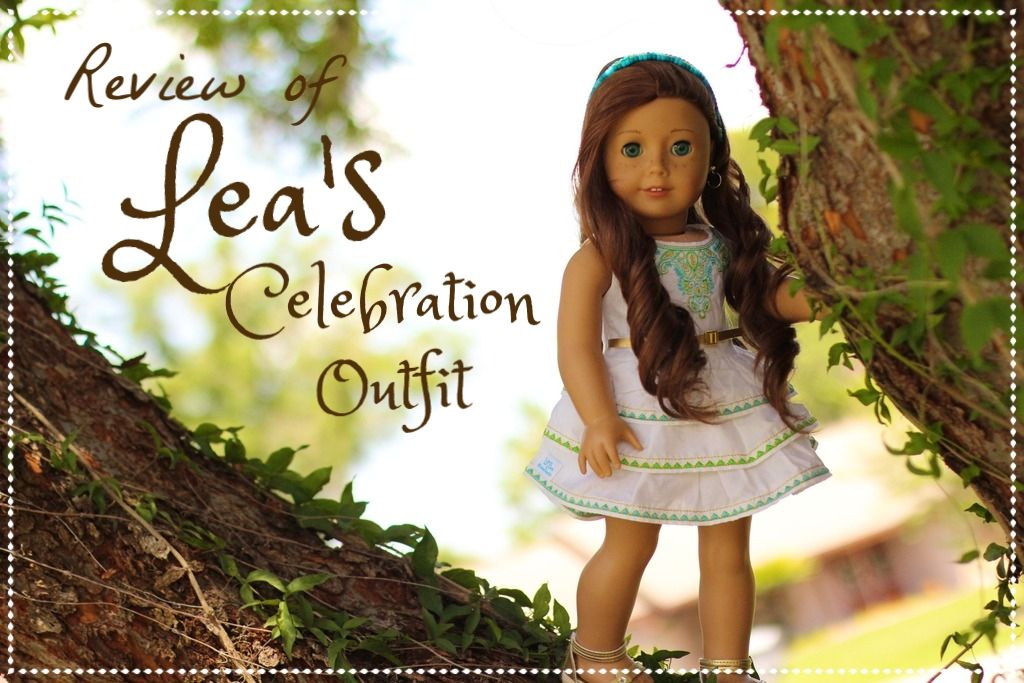 What do you think of Lea's Celebration Outfit?
Oh, and how many photos was Molly-Anne in? The first person who comments below and guesses it correctly will win first place!
Love,
Madison, Molly-Anne and Jasmine
1st place: SierraMist
2nd place: Cady
3rd place: Grace
---
Honorable mentions:
Liz
AGcmg
Christian Homeschooler
AGfan