Hello! I'm Madison2465, Madison's online Innerstar University doll. Before reading this post, be sure to read Part 1 if you haven't already.
So where we left off, I had just finished riding my favorite horse, Angel, at the Rising Star Stables, and I wondered what to do next…
Now what do I do? :P
I decided to go to the Blue Sky Nature center and do some sight-seeing with my friend Paige – another ISU guide who loved the great outdoors.
"Hi, Paige!" I greeted my friend. "Hello! Here for another scavenger hunt?" Paige asked, her smile a slice of white in her slightly tanned face. "Actually, I was hoping to just do some sight-seeing without the scavenger hunt part. Is that possible?" I answered her. "Sure thing! Here's a map of the scavenger hunt area so you can find your way back here after your done." She handed me a map and bid me goodbye.
I liked the Butterfly Garden area, but I wanted to explore another area that I liked.
Wow! The Australian area was amazing!
"What's this tree called?" I thought to myself. I leaned over the sign. This is what it said:
I continues walking through the Australian area until I came to the Amazon sign. Perfect! I thought.
Wow…I breathed. It was so mystical and mysterious! All these exotic plants and animals! I loved it.
"Oh my gosh! A macaw!" I cried. It was so colorful!
I walked back to the Butterfly Garden.
Wasn't this a cherry tree? Or something? A peach tree? I don't know! :p I decided to go back to the main entrance.
Now what? I thought. Sparkle Studios? No. I didn't want to paint or create right now. And I'd already been to Rising Star Stables. Real Spirit Center? No, I didn't do yoga. I checked my friend request and accepted it, but still didn't know what to do! All of the sudden, I received a text from Emmy. I looked down at my phone.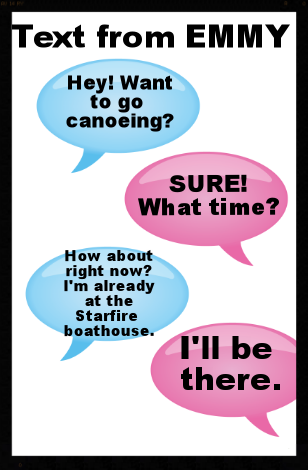 Boy, was I glad she asked! It was quite a while to the Starfire Boathouse, so I hitched a ride on the campus bus*.
"Emmy! Hey! I got your text." I waved at my friend. "I know! I loved swimming with you so much earlier, I think you'd really enjoy canoeing! You're just so much fun." Emmy smiled. I smiled, too. Emmy was so nice. "Thanks, Emmy, you're so sweet." I told her. She waved the compliment off, blushing a bit. "Well? What are we waiting for? Let's canoe! It's real easy, I'll show you.
Once I was in the canoe, Emmy showed me the basics. I learned quickly! We glided around the lake slow and smooth. We laughed and talked, it was just so fun. Finally, Emmy said, "Canoeing sure works up an appetite. Want to grab some dinner together?" "I'd love to," I replied. "But I already promised Isabel we'd get some dinner together after shopping. You're welcome to come along, though." "OK, Sure, if that's okay with Isabel."
So I texted Isabel and asked her.
Emmy said she had to put the canoes away first, so she'd meet us there in a bit.
"Hey, Isabel!" I said to Isabel – ANOTHER ISU guide who LOVED shopping, hair-do's, make-overs, anything girlyish that's full of style. "Hey! Where's Emmy?" "She said she'd be here in a minute." The Shopping Square was busy with girls all over, eager for the latest styles.
As soon as Emmy got there, we all went to Glittering Gown.
So did another girl by the name of Anna4114.
"Oh my gosh! That dress is so pretty! I need it!" I cried, spotting the beautiful purple dress with the big black bow. But the price tag nearly broke my heart! 200 Stars?! I only had 150! And I was planning to buy some matching shoes with it, too. "Hold on girls, I'll be right back," I said. I dashed to my room to get more stars.
I ran out of Glittering Gown quickly. I caught the campus bus* to Brightstar house.
I grabbed more 620 more stars. Then I caught the bus* back to the Shopping Square.
But when I got there, I didn't want the purple dress anymore! I was glad I didn't buy it right away.
Instead, I bought the Ruffled Hoodie and some leggings. I liked pairing it with my dress and shoes I already had!
We went all around the Shopping Square, from Twinkling Toes to Casual Closet (where I bought my items) to Girl Gear and Pajama Jam!
Then we got our hair styled. Like my new 'do? The hairstylist lady even said I could sleep in it, and just mist with water if it got frizzy.  Whenever I do take it out, It would be wavy, crimped, and slightly curled! :D
Finally, it was time to grab dinner from the snack cart and go. We ate our hotdogs and triple-scoop ice-cream cones together while watching the sunset. It was a perfect end to a perfect day.
I smiled, looking at my room in my comfy PJ's. It was absolutely a perfect end to a perfect day.
I turned the lights off and hopped into bed.
THE END! :)
~Madison2465~
(with a little help from Madison ;))
P.S. I am OPEN for friend requests right now! You just have to COMMENT below and tell me your username before you friend request me so I know it's you and won't deny the request.
*no such thing as campus bus at ISU.