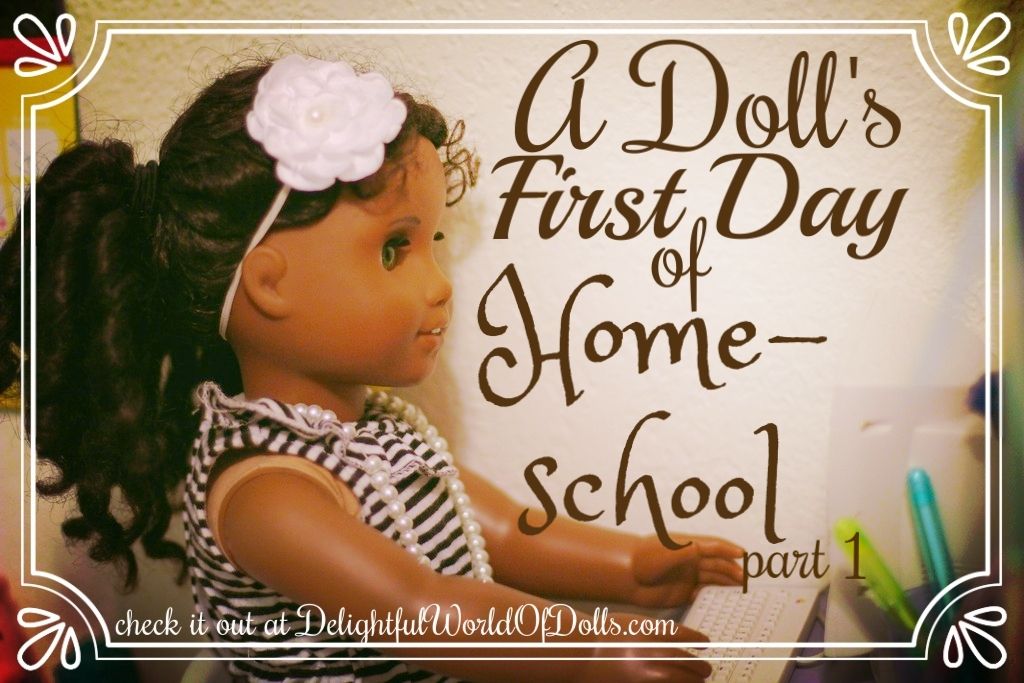 Happy first day of school, world! It is I, Cécile Rey. I am beginning school again today just like most of you. But unlike most of you, I'm homeschooled!
Well, I had this idea. Would you like to see what a first day of school is like for a homeschooled doll? You don't see that every day! I'll take you through what a regular school day looks like for me.
First, I wake up at 7am. I get dressed, fix my hair, and brush my teeth.
"First day of school!" I sang to myself as I marked off yesterday's date on the calendar.
Before breakfast, all of us sit down together and have morning devotions. We take turns every day reading our Bible reading plan, which is three chapters a day and five on Sundays. (You read the entire Bible in a year that way.)
Today it was Molly's turn to read aloud. We've reached Psalm 91, which is one of Chloe's (many) favorites.
Look at cute little Coconut!
After devotions, we'll sit down and eat a nutritious breakfast. Here is one of our tables Madison recently made for us. Today I sat with Molly and Emelie and it was Ellie's turn to cook. We all take turns doing the cooking, and it's usually something quick and easy like eggs, oatmeal, fruit, a breakfast muffin I sometimes bake the night before, or a green smoothie.
Oh, and of course, Molly would never let us forget the orange juice. She happens to have a very strong liking for oranges.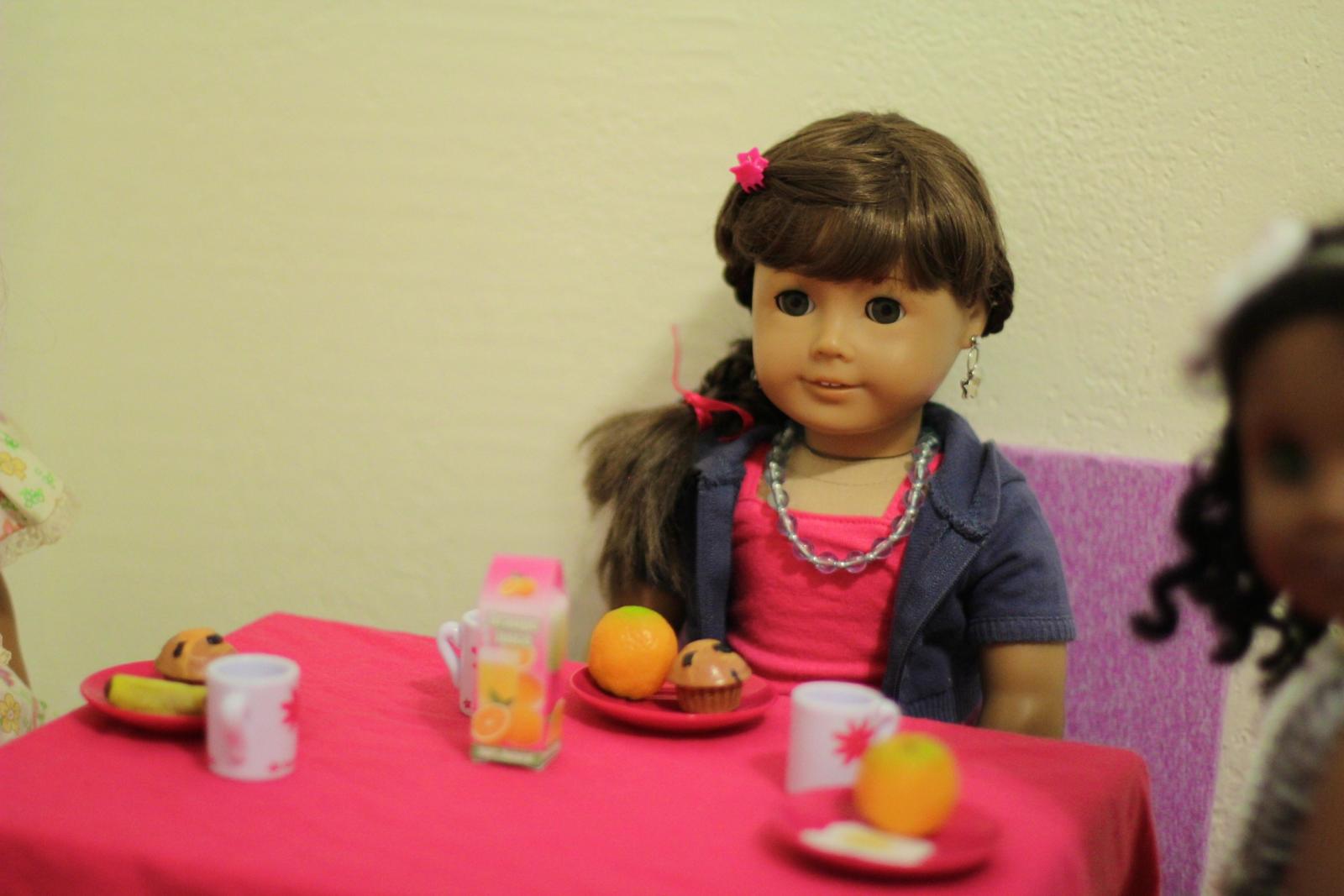 Isn't her hair so cute? I'm going to ask her to do it like that more often. Her bangs and hair look particularily nice in that style.
This morning I'm having a breakfast of an egg and an orange.
Aren't the cups you get at the AG bistro great? It's so nice of AG to let you keep them.
Oops, I forgot my fork. Better go get that so I can eat my egg!
One more picture of Molly's awesome hairstyle before we move on. ;)
First up is math. I practice my math facts on this website here, and sometimes Madison will give me equations to solve for algebra. If I don't get most of them right she'll help me understand them better.
Then it's time for the rest of school. For that, we do something called the Charlotte Mason approach.
This picture was taken while I was doing History. I read any historical fiction book that I'd like; not a boring one, but one exactly like American Girl. Something that makes history interesting and fun.
When I'm done reading the book, which doesn't take me long doing four chapters a day (I have to limit myself; I love AG's books!), I'll write a book report on it.
In the book report I'll put what I've learned about the history in the book.
"Five chapters already? Can't I do one more?" I sighed to myself as I finished my last chapter.
"No, silly," Emelie laughed. "One will turn into two, and two into ten, if that book has that many. You won't stop until you're done with the entire thing, and you'll get school done way later than you planned."
"I know," I replied back. "But I still wish I could read just one more."
"Go ahead," Emelie dared. "I bet you that you won't stop until you're finished."
She was right. I didn't stop until my eyes had scrolled across every last word.
This picture was taken when I was done reading the first section of my Science book. It has cool illustrations and comics in it, and I like it a lot. Here I am typing up my essay, on which I got an A+, by the way. ;) But Science isn't over yet. I still have to go outside; more on that later.
Here I am holding my finished History essay. I did good on my Science one, so I hoped I'd do good on this essay as well.
I was quite delighted when Madison handed my report back to me, as you can see.
"Hurray!" I shouted. Making straight A's is an important goal to me this season.
I broke out in a happy little jig, complete with very-muffled tap steps on the carpet. I was humming a catchy ditty and had just performed a quite beautiful scuffle when Jasmine barked at me to be quiet.
"I'm trying to finish my last chapter in History, Cécile! Go celebrate someplace else!"
"How rude!" I huffed in a joking way. "I was just about to go outside, anyway."
"For Science?" She questioned.
"Yeah. I did both my Science and History essays, and I'm going outside for the rest of Science now."
"Have fun. It's a crazy-wet world out there."
Wet and rainy won't daunt me! Join me outside and for the rest of my school day in the next part.
Love,