I finished this AGSM a week ago and finally got the perfect music for the intro and the end! Here it is, enjoy!

AND….YES I HAD A GREAT TIME AT THE AGP FOR MY BIRTHDAY! :D :D :D :D :D Thank you for all the sweet happy birthday wishes, I truly had a great one! I bought some great stuff (using all of my money and my mom paid sales tax XD) that you will get to see after some gorgeous photos of my newest doll…

JOY IVY LING! Isn't she just darling?! She is such a great addition to my little delightful world of dolls (hence the website name! XD) and I love her so much!

I bought Kit's Summer Dress/Outfit at the AGP with my BFF's. I cannot express how much I AM IN LOVE WITH THIS OUTFIT. Definitely not Kit's style, but in my opinion the most beautiful dress AG has ever made. The moment I set my eyes on it a few months ago at AG's shop site, I knew I must add it to my AGP shopping list. So therefore it ended up coming home with me! I couldn't be more happy with the quality, the beautifulness, and the design. It's truly my favorite!

I paired it up with the cream tights from the Tights Set I bought. I think it matches perfectly, though Joy might've been a little too hot in them! :)

I put some beautiful dangles on them from the Fancy Earrings I bought too! I love them so much, they are very beautiful and add so much sparkle to the outfits dolls wear! I am also very glad Joy came with her ears pierced.

Just look at that darling little face! She is so much cuter and more beautiful in real life. These pictures will never do her justice!

Love the bow on the back of the dress!

Taking a Sunday afternoon walk! :)

I set her on the steps of the Fellowship Hall right next to our church and…presto! So many amazing stopmotion and/or photostory ideas popped into my head. Doesn't it look like she's posing for an Easter Sunday photo or something? She looks like she just got out of a church service!

Again, the pictures don't do her justice!

I like the pose, not the best picture (cars and RV in the background, COULD NOT GET THE IPAD MINI TO FOCUS!!) arrg. XD.

The picture isn't focused and once again the background isn't that great but the pose is still cute. :D
I love my Joy so much! She truly brought…JOY to me! :D

Here is her room! (sorry for not the best quality again) I've been prepping and preparing it for her for a week!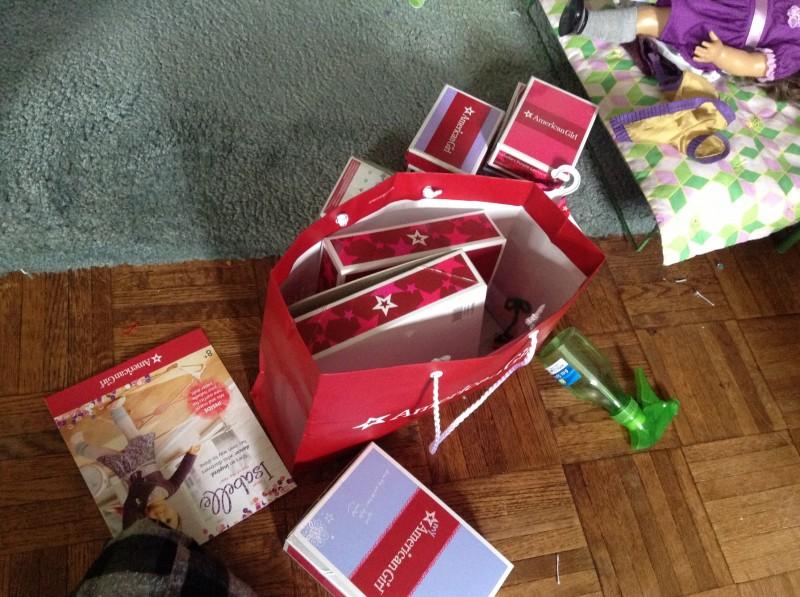 And yes, like I promised, my dolls will model and show you all the things I bought at the AGP!

I bought Josefina's Dress & Vest for Josefina. She was sad she didn't get to go. ;( (I also bought Kit's Summer Dress for Emelie for that reason also but Joy is borrowing it because she looks so stinkin' CUTE in it!)

I love this dress so much! So much detail, quality design, and historical accuracy. I paired it with the black tights (again from the Tight Set I bought).
And when I asked my dolls who would model the other outfits, (since Cecile and Joy were already wearing those) guess who volunteered?

Miss Jasmine, the freckled fashionista of course! She is modeling the ADORABLE AGP swimsuit(or Berry Skirtini)! I love it!! It's great quality (what else would you expect from AG?)  and made of swim-suit kind of material, too.

Here are the Fancy Earrings I bought! (Joy is wearing the gold dangling things)

Jasmine LOVES the blue ones. They look great with her blue eyes!

My brother bought me this for my birthday, I didn't buy it at the AGP ;P Jasmine LOVES it, but I gave it to Joy. XD

Isabelle's Purple Leotard….nice splits, Jasmine! (I gave it to Jasmine because she was a teensy bit jealous she didn't get to go either.)

Isabelle's Rosette Leotard….(I'm giving it to Molly)

My only problem with this is it's a teensy bit see-through. You can clearly see the tags in the picture above this one. If your doll is wearing underwear with it, the color shows through – not something she'd want performing!

My BFF's bought me FIVE DOLL-SIZED PURSES for my birthday (along with other adorable stuff for my dolls, trinkets they made, and Rainbow Loom bracelets for me!) so I gave them to all my dolls as bonus sorry-you-didn't-get-to-go-to-the-AGP-gifts. (OK, Cécile went too to have her curls re-done. But oh well.)

Why aren't they looking at the camera? Silly dolls :)

One more final picture of gorgeous Jasmine in the Sunny Isle Outfit before I say goodbye!
Did you like the stopmotion? Isn't Joy Adorable? I added her to the Meet The Gals page. Just click here!
~Madison~