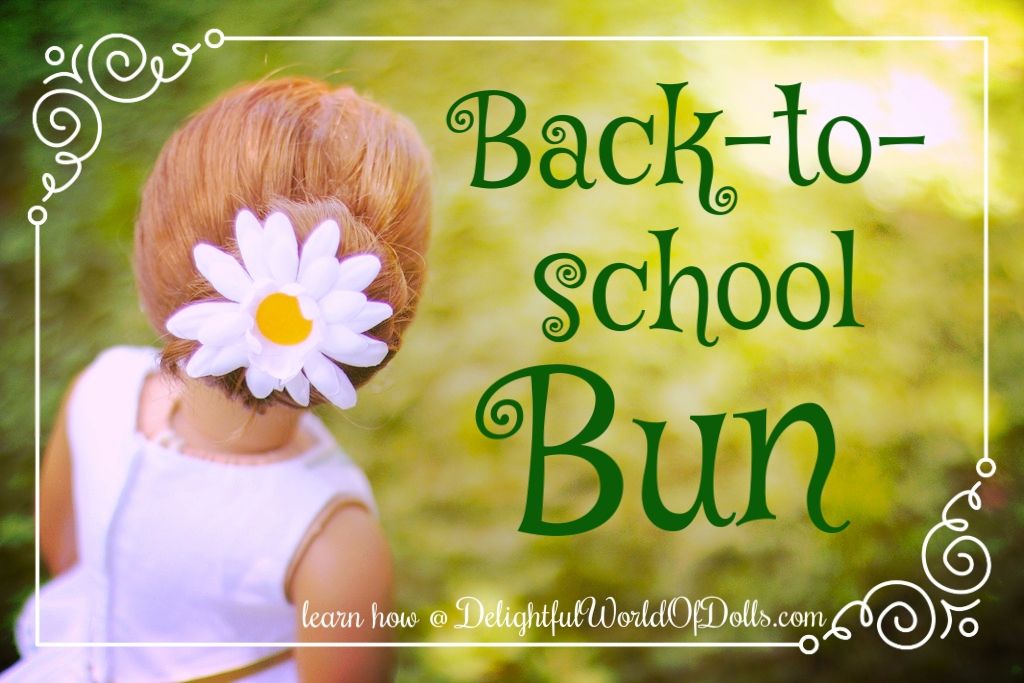 Hello, everyone reading this! It's Madi here. Today I'm going to show you how to make an easy-peasy style for your doll called the Back-to-School Bun. Maybe your doll didn't have so great of a start at school this week, but she'll own this coming Monday with this cute style. It's quick and simple and out of the way, perfect for school, yet still elegant. You just need a flower from the American Girl store, or any fake flower with a stem. It's best for dolls with longer, wavy hair. Ready to learn how?

•Your doll, of course!
•An AGP flower (the one you get in the ice cream) or any fake flower with a bendable stem
•A spritzer to keep it frizz-free (optional, I didn't use one)
Let's get started, shall we?
First, you are going to have all your doll's hair down like this. You can brush and spritz it if you'd prefer, but I just did it quickly because it was blazing hot outside. ;)
Bring your dolls hair into a simple beauty bun. Secure it with a hair elastic, like I did, or bobby pins if you want it to look very neat. :) My bun is pretty messy, as you can see. :P
Now, take the stem of your flower and push it into the center of your bun.
It will poke through near the top like this. Push it all the way through and then grab your stem and thread it through the hair on the top of her head. It's kind of like weaving, but don't go in-and-out – make sure it's completely under the air.
Once the stem has been weaved under the hair and near her wig, it should look like this. You shouldn't see the stem at all.
Look how beautiful the end result is!
 It's the perfect style for school.
Jasmine really loves her back-to-school bun, especially since the flower matches with Lea's Celebration Outfit.
 There are plenty of variations to this style. You could use two flowers and do two buns or make the bun higher or lower depending on how you want it.
 I hope you've enjoyed this tutorial of the back-to-school bun!
Have you gone back-to-school yet?
Love,
Madison and Jasmine