Happy December, everybody! The Christmas festivities are in full swing in the DWOD house, and one of the first things my dolls did was get dressed up in their Christmas best!
I thought it would be super fun to show them all to you and at the end, there's a poll for you to vote for who wore the best one!
(Jasmine and Del are looking pretty competitive over there)
First up is Miss Molly! She is wearing her evergreen velvet Christmas dress from Pleasant Company. I got it from my parents for Christmas in 2015 from eBay.
Next is Josefina. She's actually wearing the dress from her summer dress and vest outfit, but I thought the pattern on her skirt looked very Christmasy!
Cécile is wearing her meet dress, which I thought looked very festive! I paired it with Maryellen's crinoline to make her dress poofy.
Emelie is wearing her holiday dress! Fun fact, it was one of the first American Girl outfits I ever received—I got it the same Christmas I got my first doll Molly.
Jasmine is fond of this purple holiday dress from My Life As I received in 2013. I also added some pretty winter eyeliner stickers from Dolls U Craft!
Jasmine, of course, posed for more than just one photo.
This is one of my favorite fancy updos to do on my dolls—here is the tutorial!
And here's Ellie! It's funny, I didn't have a lot of specific holiday outfits so I was just trying to find what would work for all my dolls…
I put Ellie in this red jazz dance set from the Truly Me line in 2017. I didn't like it as a holiday outfit at all, I thought it looked too much like an obvious dance dress…
But I had her hold this ornament necklace my mom got me from Kohl's, and this ended up being my favorite photo from the entire shoot! I think her outfit goes great with it now!
Chloe is wearing Cécile's parlor outfit, with a bow in her hair from the Creative Doll Crafts Etsy shop!
Taryn is wearing Rebecca's movie premiere outfit that I got for Christmas in 2019. I also added the hairband that comes with Lea's accessories.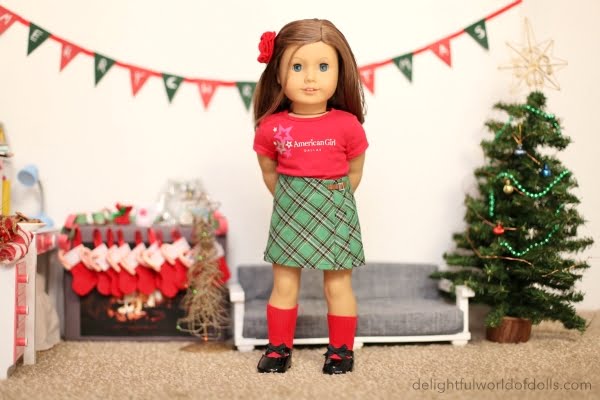 Katy is wearing something much simpler—because I was really running out of outfits that looked Christmasy! It's a red AG store exclusive shirt with the skirt from the World Traveler in Ireland outfit. My friend Josie bought that one for me last year!
AND OF COURSE, DEL.
Del is wearing a shirt that Kaitlyn from Kait's AG Crafts sent me in 2017, paired with a skirt from a Dreamworld Collections outfit they no longer sell, but you can see more photos of it here.
I made the Santa hat she's wearing—here's the tutorial for it!
Del did NOT like the sparkly skirt but she was motivated to put together something, anything more festive than Jasmine's. ?
Now it's time for you to vote!
And in case you missed it, don't forget about our third annual Christmas card exchange!
I've received so many messages from people telling me they plan to participate, and I am beyond excited to check the P.O. Box for cards soon!
I can't wait for you guys to receive the custom card with Molly and Del on it.
Let me know below whose outfit you voted for and why! My favorite outfit is a tie between three dolls, can you guess who? ?