Hey, girls! Did any of you celebrate Halloween? I don't go trick-or-treating (our neighborhood was filled with awful Halloween decor…) and went to our church's Harvest Festival instead. It was very fun – I even won a raffle prize! It was a bunch of colorful beads including a lot of ABC ones…which I really love!
When I heard our pastor call out the last three numbers, "363," I stood up and screamed with my ticket in the air! I was so happy. I had been eyeing the bead set the entire time and somehow I just KNEW I was going to get it… I plucked it right off the stage!
I wanted to dress up as H20 and wear all blue, but my dad said nobody would get it…so I wore a big purple T-shirt that says, "I'm God'sGirl" and went as God's Girl. LOL! :-)
So, my dolls insisted on dressing up and having a costume party at home! They had a lot of fun breaking out the sugary cereals and eating all the candy I brought home for them (I was allowed to eat three pieces, by the way, and brought the rest home. :-) ).
Then they demanded I take photos of them! They were all over me…and I was exhausted from the Harvest Festival. We had volunteered to help, so I was there from 3pm to after 10pm! My feet were sore and tired…I was just about ready to flop on that bed! No…I WAS ready to flop on that bed!
So I told them they'd have to wait until Monday, because tomorrow was church and I wouldn't have enough time between two services.
So today, after graciously thanking them for staying in their costumes over the weekend (some of them were uncomfortable), I took some pictures of their adorableness!
It was quite fun. My sister passed down a new camera for me. It's quite a step up from my iPhone 5… it's a Canon EOS 60D! I am still getting used to all the settings and how to adjust the lighting, so please bear with me as I post some amateur photographs…
First up is Molly! She's a hula dancer – her favorite costume ever!
Here is a full-body shot.
She is wearing a flower headband…
… her traditional red bows on her braids, and a colorful bikini top…
… a green hula skirt…
…and some orange flip flops! Now, if only I could find a lei for her to wear…
For her last pose, Molly does the hula!
Up next is Josefina, dressed up as Eve after the Fall in the Garden of Eden.
She has thick, beautiful braids.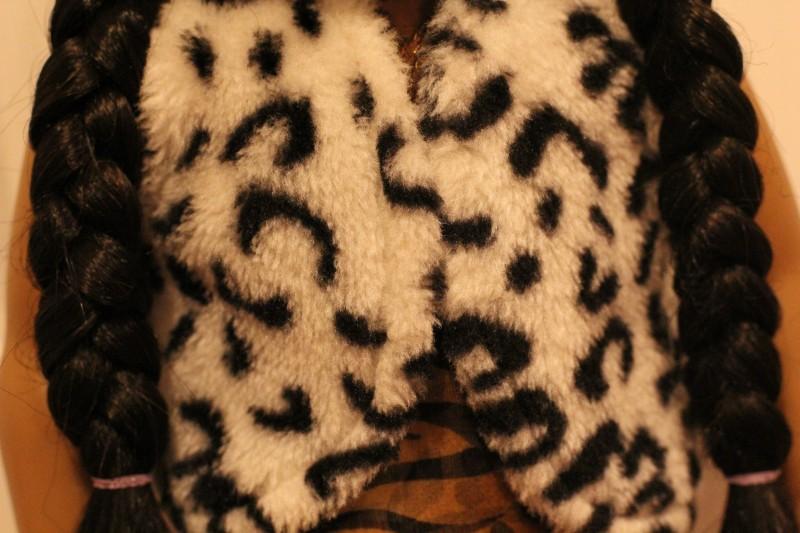 A colorful snow leapord vest,
A striped-and-spotted animal fur dress,
And comfortable moccasins.
For her last pose, she holds up a little baby Cain! A sign that God still loved and cared for her and Adam…even though they had sinned.
Oh, my…here we have Cécile. She thought people were getting all creepy and evil this time of the year, and decided to bring laughter with this…quite…interesting costume.
If you cannot possibly tell, she is a duck.
She has a duck towel wrapped around her.
Along with a yellow dress and yellow "flippers" underneath. :-)
Before she goes, CéCé would like to say,
 "QUACK QUACK QUACK QUACK QUACKEDY QUAAAAACK!!! LET THE WATER ROLL OFF YOUR BACK LIKE A DUCK BECAUSE YOU KNOW THE WATER JUST GLIDES OVER A DUCK IT MEANS IF SOMEONE'S RUDE TO YOU JUST LIKE IT ROLL OFF YOUR BACK LIKE WATER AND A DUCK HAPPY DUCKAWEEN HAPPY DUCKAWEEEEEEENNNNNN BYE BY-"
Okay, I think you've succeeded in making us laugh, Cécile, you may go now…
Now, here is Emelie, dressed up as Molly McIntire!
She is wearing Molly's signature, round, silver glasses.
Here hair is in two authentic braids, and notice the rick-racked dickey!
Her sweet sweater has the familiar argyle pattern.
After her navy blue skirt comes the classic Mary-Janes and white socks!
As her last pose, Emelie imitates a tap dance move! (It is very lopsided scuff, if you're a tapper and are bothered by the postion of her feet. LOL.)
Oh, my! Who do we have here? Why, it's Jasmine – she is a Water Princess from the Floridian Water Tribe!
Her gorgeous crown…
Look at the amazing braid style I did to her hair! Do you like it? Not trying to brag or anything, but that was on first try ;) . Whatever it was I attemtped to do…
Her lovely blue earrings…
Here is the gorgeous turquoise necklace, aquatic mint-green sash, and lovely bright blue dress.
Her braid is tied off with a baby-blue hairtie as well.
Underneath her gorgeous dress are some beautiful flats, on which the toes are a sparkly sapphire-blue.
I couldn't help myself, but I do believe I took more pictures of Jasmine's costume than the others…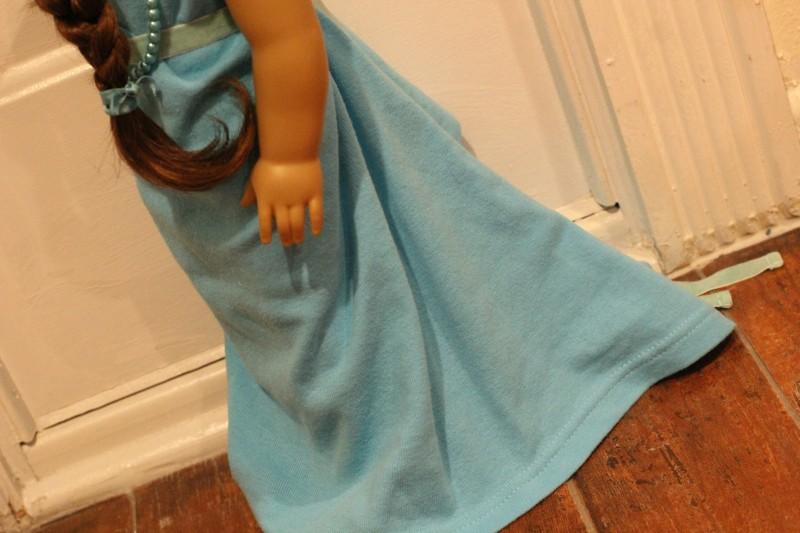 Imagine water flowing gracefully from her hand…
Jasmine says, as a variation to Elsa's "Let it go",
"Let it flow!"
~~~~~~~~~
And now we welcome Ellie as Emily Bennet!
The fun headband is atop her head.
She also has Emily's gorgeous Peter-Pan collar-style dress with the delightful cherry blossoms.
Underneath the pleated skirt of it are Emily's signature red socks and Mary-Janes.
"Molly" and "Emily" pose for a BFF shot!
Last, but certainly not least, our very own Chloe Zoey as Tinkerbell! Emelie very much wanted to be Tinkerbell, but agreed Chloe would be a better imitation of Tink with her blond hair and blue eyes.
She has two cute high pigtails with a green headband.
A beautiful "leaf" dress.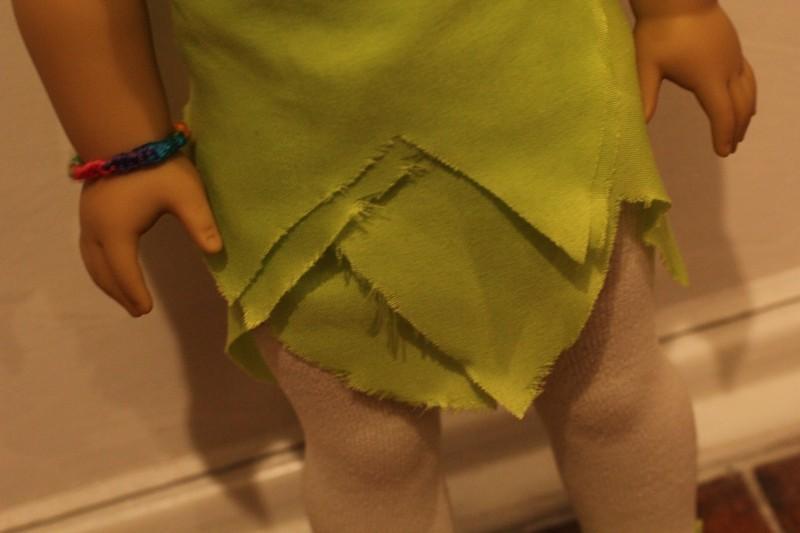 The classic look at the bottom of the dress…
And to top it off, all the way down to the shoes, are the little pom-poms!
And you can't forget the gorgeous wings!
For her last pose, Chloe is dreaming of flying up, up, and away!
Weeee!
So… now YOU get to decide whose costume was THE BEST!
 Did you dress up this year?
Love,