Hang on to Hope
Season 1, Part 7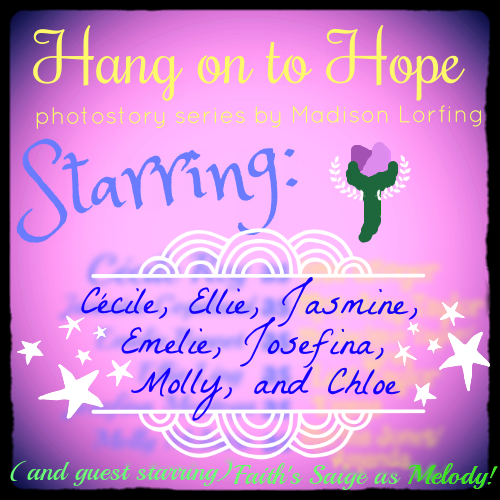 (I'll edit the cast picture soon with the new Bible Club Girls cast on it – my computer won't let me go on my editing site until my dad unlocks it.)
"Do you think I'm dressed too nice?" I nervously Lexi as we walked down the hallway to the room where the Bible Club Girls met. We were meeting at Amanda's house this time, and Amanda's mom met us at the front door, pointing us down the hallway.
"Of course not, you actually look really good-"
Lexi was interrupted was Amanda screaming, "LEEEXXXXIIIIII!!!!!"
"Yes! Finally! We waited forever for you, we thought you had, like, died or something. Did you bring the – oh my, who's your friend?" Amanda's bubbly personality was noticed right off.
"This is Issa. Now, what about me bringing–"
"YOU FORGOT IT?!!!! I LET YOU BORROW IT!!!! WE CAN'T HAVE THIS MEETING WITHOUT IT!!!! NOOOOOOOOOOO!!!!!! WHAT'S THE POINT OF A BIBLE CLUB IF WE DON'T HAVE A BIBLE!?!!!" Amanda dramatically gasped.
I let those two have their conversation while I sat down next to a nice-looking girl and introduced myself.
"I'm so sorry, I just forgot!" Lexi explained.
"Well, what are we going to do?!"
"I, um, have an idea!" I spoke up. Amanda turned to me.
"I can download The Bible App on my phone. We can read from there."
"ISSA YOU'RE A LFIE SAVER!!!!!!!!"
So, therefore we continued to have our study. It was really fun – we read from James, I believe.
We had discussions on what we read, and had snacks and ended with a prayer. I became a Christian that day, and I felt so happy!
I met Sarah – here I am trying to shake her hand, but she embraced me in a hug instead!
Sarah is funny, and has an outgoing personality. At first, she was a little shy, but once you get to know her, she'll have you cracking up in no time! Here I am laughing my head off…I don't even remember what was so funny. I just know it was funny! XD
I already knew Melody from our playdate, and back there is Emmalina. We just call her Emma. She's quiet, but really sweet and always has lot's of great advice.
And of course, there's Amanda. She is rowdy, fun-loving, and totally dramatic. She gets stressed out really easily.
Afterwards, we started to leave. A couple of the girls were having their mom's pick them up, But Emma was walking home with us. Her house was on the way.
"Bye, girls!" Amanda waved. It was decided that the next Bible Club Meeting was to be at our house next week! I couldn't wait.
"So how long have you been a foster girl for?" Emma asked. That question kind of caught me off guard.
"Um, well,"
"I mean, not to be nosy or anything," She added quickly.
"Yeah, um, since I was a little girl…"
Eventually, the conversation turned into an argument. One thing led to another, and eventually we were shouting.
"JUST BECAUSE YOU DON'T HAVE PARENTS DOESN'T MEAN YOUR LIFE IS HARDER THAN MINE IS!!!!!!" Emma screamed.
"I HAVE PARENTS! HOW CAN YOU BE SO RUDE?! YOUR LIFE IS NOTHING COMPARED TO MINE! IT'S SO HARD AND HORRIBLE! WHY, I..I…"
"Woah! Woah! Ladies, break it up!" Lexi pushed us apart.
"Emma, what's gotten into you? i've never heard you scream in my life!" Lexi bewilderedly asked.
"Well you two losers can chat! I'm going HOME! I've just about had it with all this rudeness!" I declared and marched on.
"She's gets like this a lot. Don't worry." Lexi told Emma, annoyed.
(By the way, that black thing sticking out of her neck is actually a bobbypin keeping the two ends of the string of beads around her neck. Lol.)
All of the sudden, I tripped. Just over my own two feet – and let out a yelp as my arm hit the ground hard.
"Issa!" Lexi screamed, and ran up to me. "Oh my gosh!" Emma kept repeating, over and over.
"Get somebody! I think I broke my arm!" I could barely breathe. My arm hurt so bad, I was sure it was broken. I felt like screaming and crying all at the same time, but I didn't want to frighten anyone. Instead, I just pinched my lips together while silent tears rolled down my face.
"I'm calling 911!"
TO BE CONTINUED.
The next post will hopefully be a tutorial of how I did Ellie's updo in the last post of HOTH! :-)
~Madison~