Hey girls! Madison here. Today is Good Friday! 2,016 years ago Jesus died and paid the penalty for your sin so you wouldn't have to. He bore every singly sickness, disease, and iniquity so you woun't have to. I love you, Jesus!
Well, I'm starting a new thing that's fun for me and hopefully fun for you! Every so often I'll make a post about one of American Girl's free online games, like this one. You'll hear my opinion on it and then be able to share yours.
This time, the game I'm posting about is Lea's Rainforest Rows! You can play it for free at American Girl's website by clicking on that link, or clicking on that small picture above.
So here is the starting point! You're greeted by groovy Brazillian-ish music. You can click the leaves to either learn fun facts about the animals included in the game, or go ahead and click the leaf that says "play" to start the game!
It shows you how to play before you start. As the picture says, you move a tile to match three or more of the same item in a row or column. If you already know how to play, you can press the skip button.
Here I have the green flower selected. I'm going to switch it out with the parrot above it to make the flowers match. To do that, I simply select the green flower and then selected the parrot I want to switch it with.
You can only switch up and down or side-to-side, but not diagonally or halfway across the board! LOL.
If you get stuck, there is a hint button at the bottom-left of the screen you can press.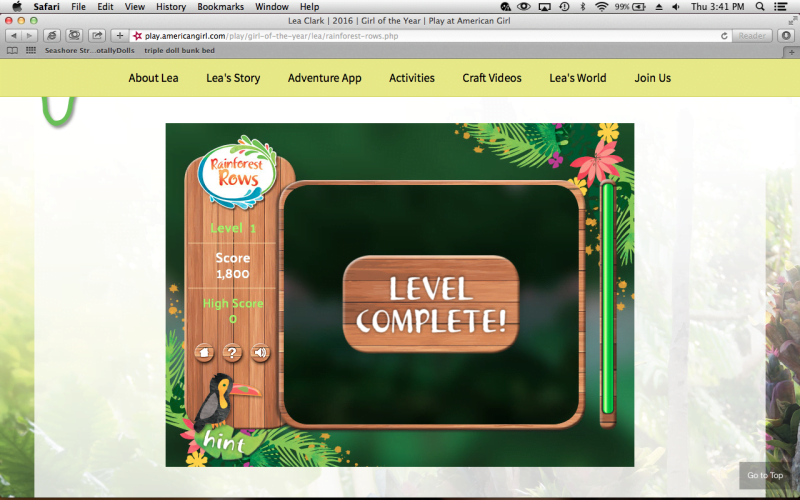 Once the green bar to the right of the board is filled before time runs out (every time you complete a row of items, it gets fuller) the level is complete! It will automatically go to the next level.
As you can see, that's my high score!
There is no pause button like there is for the other games, which I think is weird. And if you try to stop the music by clicking on the volume button, it will just play another repeat over the Brazillian music so two tracks of it are playing. Every time you click it, it gets more confusing and jumbled. That is a glitch they need to fix.
The next levels have different items in it, as you can see the new blue flowers and more parrots.
My opinion on the game…
Negative:
I personally dislike it because there is another AG game almost exactly like it, called Kanani's Onolicious. Kanani's version is much more fun though – I loved it way better than Lea's game and Onolicious keeps me playing and playing!
To me, Lea's game lacked the creativity and orginality that showed in the older American Girl games that are no longer available to play – I'm talking about all of the Historical Character ones before it was changed to BeForever. Hardly any of the original games are left. Rainforest Rows is simply a simpler copy of Onolicious.
Positive: (I prefer to end positively. :) )
The fun facts were educational and a thoughtful detail to put in. Being a homeschooler, I appreciated that. LOL! It was fun to read about the adorable animals. I smiled when I read them – bravo, AG!
And that's it for this post about Rainforest Rows!
Please share your opinion about it below. I'd love to know what you think about it!
(If somebody disagrees with you, don't take it personally. I will not approve any comment that is rude. Keep your words kind!)
Love,