~Told in the POV of Emelie~
"Ugh! Girls! I found these sunglasses and a flower hair clip all the way on the other side of the house!" I was announcing as I walked down the hallway and to our room inside Madison's room.
But what I saw made me drop the accessories I was holding and gawk.
Chloe and Cécile were sprawled out on a messy bed.
Josefina was helping Jasmine taking off a fidgety jacket from a piece of a costume from an AGSM. I stared in disbelief as she prepared to throw it on the floor.
Molly was helping Ellie rip off a foot cast, a piece from her costume from HOTH.
I couldn't take it anymore. Something huge was welling up inside of me, and it was just about getting ready to burst.
I squeezed my eyes shut, threw my hands in the air, and let out a frustrated SCREAM that pierced the air.
All heads turned to me.
"You girls!" I scolded, my English accent dramatically encouraged. "You all think you can trash the entire house! I try so hard to clean it all up! You – you – you're all living like pigs in a pig stye! How can you live this way?! It frustrates the leapin' lizards out of me!"
"MAKE IT IMMACULATE, ALREADY!!!"
With that, I thrust the huge, hideous pile of clothes to Josefina's side of the bed.
And I flopped down and let out a huge, satisfying, "Hmmph!"
I peeked one eye open to see Chloe's face turn to a look of guilt and shame. I shut my eye, wishing I hadn't had to outburst like that, and fell into restless sleep.
~Narrator's POV~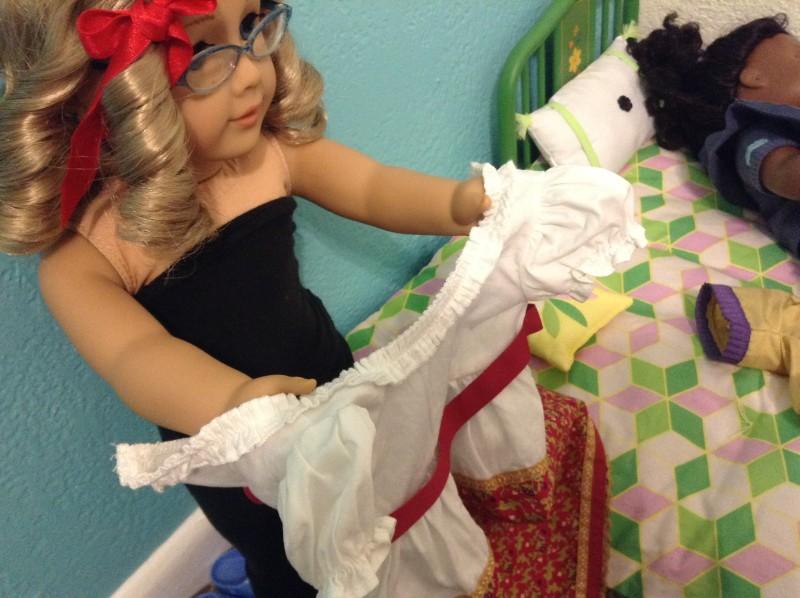 Chloe picked up a dress like she was about to fold it.
"Oh, Chloe, you don't have to start cleaning!" Josefina told her quickly. "Emelie gets like this sometimes, it blows over if we apologize and then we all spiffy up once she's awake."
"Oh, I wasn't cleaning. I just wanted to see how awesome this would look on me!" Chloe grinned sheepishly, tying in a few red bows. "Nah, I'm totally kidding. Emelie's right – this is her place, too, and we don't really have a right to trash it. Plus, I need to learn, since I'm part of DWOD now, to clean up after myself," Chloe admitted.
"Anyone care to join me?" She finally asked after folding a stack of clothes in no time.
Everyone seemed pleased with Chloe's suggestion, and glad to be working together to spiffy up their living space.
Chloe set the stack of folded clothes in a bin.
Cécile started folding some clothes, too.
Soon everyone was helping to clean up the room, all while Emelie was sleeping. "I feel like Santa's elves at Christmastime," giggled Ellie.
"They don't exist," Jasmine scoffed, laughing at Ellie's imaginative brain.
"They do in here," Ellie tapped her noggin, grinning.
With all the cleaning up, a few of the girls found clothes buried in piles of other clothes and absolutely had to change their outfits. Josefina, especially, changed and did her hair neatly, and was as happy as she could be, organizing and having such a beautiful outfit on.
Chloe decorated her space and added a butterfly décor piece with gorgeous strings of ribbon cascading down.
Molly straightened Splotches, Chloe's stuffed dog, on her bed.
And they both worked to organize Chloe's used-to-be cluttered shelf things.
After Ellie made the beds neatly, she placed Molly's doll, Molly-Anne, on Molly's bed.
Cécile organized the top of the sock drawer.
Jasmine cleared off a messy bed and placed her stuffed turtle, Fiona, her doll Jocelyn, then Snowy and Celina on top of the bed.
Josefina as well placed her own doll on her side of the bed.
Sooner than later, in her usual sleeping position (one foot turned into the other), Emelie awoke groggily.
She yawned and mumbled something about dreams of quilting bees with a historical time-traveling, fictional Kirsten Larson before opening her eyes.
She gasped.
"Wow!" Emelie cried, not knowing what to say.
"How is the room clean? I just dozed off for a few minutes or so!" (it really had been about an hour and a half…)
All the other dolls did was exchange mischievous smiles.
"Elves did it," Ellie giggled finally.
"I'm sorry for yelling like that," Emelie finally apologized.
"That's fine, it's all good," Josefina smiled.
"I don't quite know what to say! I – I'm so happy everything so spic 'n span now!" Emelie laughed.
"Then don't say anything," Molly grinned. Coconut jumped up by Emelie.
"Wait…" Emelie furrowed her eyebrows. "How did elves get in here, anyways?"
~The End~