Hey, guys! Madi here. Yep, the server switch is done! (Finally, right? XD Do you notice a difference in the speed of the entire site?) I'm so excited to get back to posting! I have tons of posts in the makings and two different huge AGSM ideas and… Whoops, I'm getting ahead of myself. ;)
First, I'd like to give a HUGE thank you to everyone who participated in the First Annual DWOD Christmas Card Exchange! It was SO exciting to send and receive cards, and I cannot believe how many of you participated! I was only expecting eight or nine cards to come in at the most, but seventeen came in instead! I was so excited and happy and blessed by your absolutely beautiful cards & kind words! You guys are the best! ♥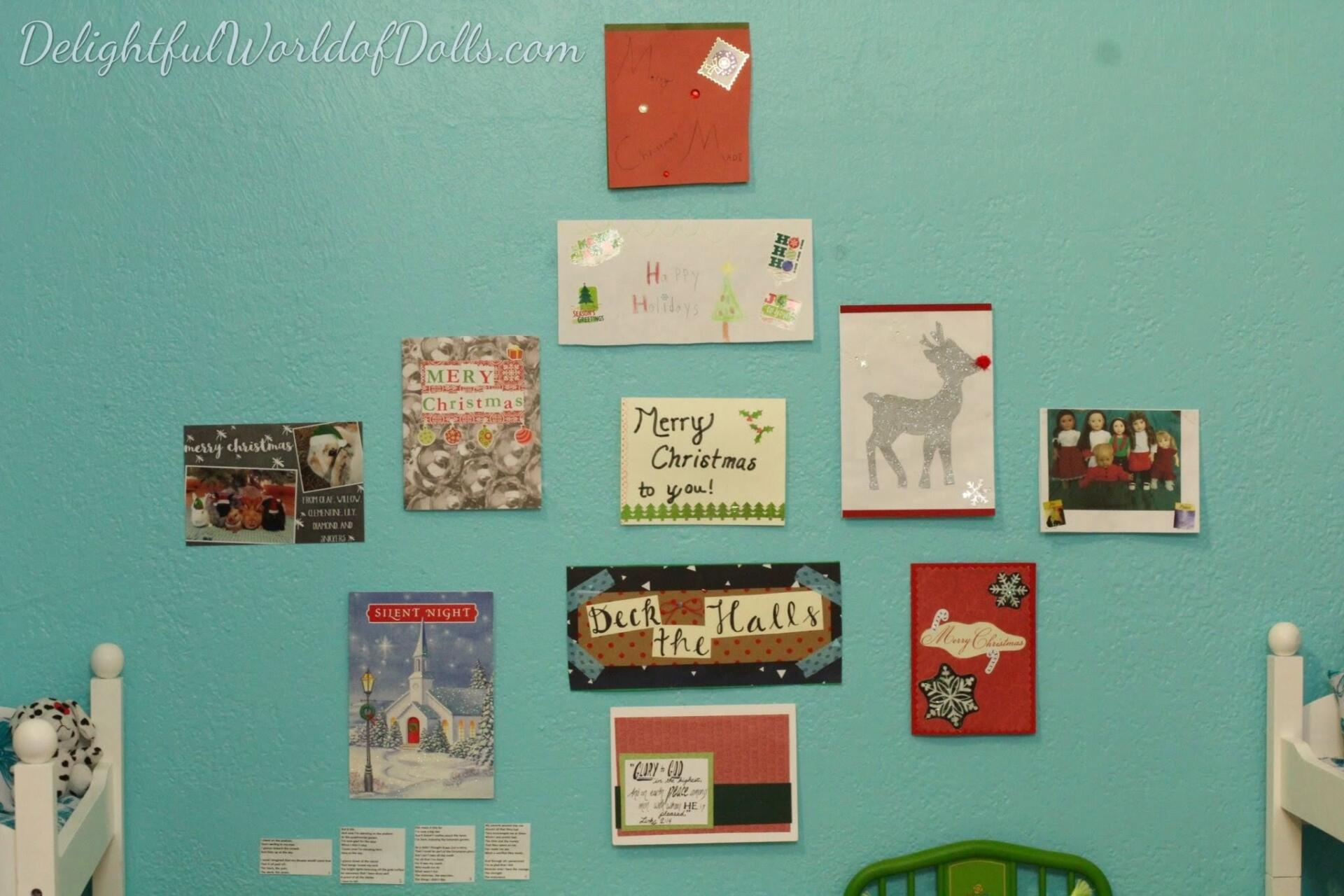 Can you spot your card? (If you sent one) Mya from AG Lane gave me the fabulous idea of hanging her gorgeous card up as a decoration in my doll room, and then I thought – Hey, why not ALL of them? My dolls LOVED looking at the absolutely amazing cards you guys sent – and I adored reading them, gazing at them, smiling at them… I even gained multiple new pen pals! ♥
Pictured above are cards from Reya, Addylover, Olive, Megan, Gracie, Maddie, Christian Homeschooler, Anna, Clara, Olivia Bell, and Light4theLord! At the bottom, there are four pieces of paper above Molly's bed. Light4theLord's doll, Katie, sent Molly an awesome gymnastics poem that Molly totally loved!
There were so many cards, I couldn't fit them all into one picture! Above Chloe and Ellie's bunkbeds, these awesome cards from Miri and ThePolkaDotPatriot decorate the walls!
Wait, what is Emelie doing in Taryn's bed? 
And here are gorgeous cards from Mya and Stephanie!
And last but certainly not least, these last two lovely cards are from Lydia and Jessica! (Actually, I participated in Jessica's card exchange, not the other way around, but I have her card up as a decoration anyway because it's pretty! LOL!)
Thank you SOOO much to everyone who sent me a card – all seventeen of you! ♥ You are AWESOME! Each of your cards are so beautiful and amazing, and made me feel SO blessed and thankful when I got it! If you haven't received a card from me yet, don't worry. I've already sent them out before Christmas (besides one card in return to a card I got after Christmas), so if it hasn't arrived yet, that means the mail is just running behind and my card should arrive soon! :D
But that's not all! My dolls received cards as well! Pictured above are the absolutely incredible cards from the dolls at Clara's Craft Corner, ThePolkaDotPatriot's dolls, Small Dolls Big Hearts, and the dolls at Dolls N' All! My dolls had a total blast sending and receiving cards, too! ♥
And here we have the amazing cards from the dolls at Smile and Craft AG!
My dolls and I thank you all sooo much again! We had so much fun making cards, and it was such an amazing experience to host my very first annual Christmas card exchange!
If you didn't get a chance to participate or weren't allowed to, don't worry!
I have many more posts planned that I hope you'll love! I also happen to have two super cool AGSM production ideas (like, not short stopmotion videos, but movie productions!) that I can't WAIT to get started on! Yesterday, my family and I went to clean our RV to get it ready for an evaluation on how much it would sell for, and on the way home, I spotted the PERFECT place I had been looking for to shoot this one scene of an upcoming stopmotion production. I am mega, mega excited to get back in the stopmotion-making!
Oh, thanks for reminding me, Taryn! I have one more thing to thank you all for…
Last week I underwent a procedure for my teeth that was really scary for me and put me in a lot of pain, and figuring the post would be lost due to the server switch anyway, I posted a quick prayer request and was honestly blown away by the number of responses that came in! You guys (from all over the world, hence the background of the picture above!) and your prayers were such an encouragement to me! After the procedure I posted another update and got even more responses, prayers, encouragement and sweet words! They really, really helped – I was in a lot of pain after the procedure, but after about an hour and a half I was feeling so much better, I could not believe it! (Thank You, Jesus!) I couldn't ask for a better group of online friends God has blessed me with! You guys are so amazing! Thank you (yes, you!) SO much for being such an incredible encouragement and friend! Both of the highly unprofessional XD posts are deleted now, but I've saved every comment and I'll never forget how blessed and thankful I felt (and still do feel!) by you guys! Thank you from the bottom of my heart! ♥
Taryn thinks that sounded mushy, but I am listening to a very slow and sweet violin track as I type this, after all. *shrugs* I actually didn't plan on playing it while I wrote that, I just wanted something soft to listen to while I typed up this post, but it ended up helping the mood, I guess… XD LOL!
In conclusion, I wrote this post to say…
THANK YOU! ♥ Though that's pretty obvious. ?
Stay tuned…
For more posts coming up next – like the next parts of I'll Be Home for Christmas if Only in My Dreams, multiple photoshoots of Taryn, a new thing called Taryn and Jazzy's Fashion Academy, stopmotion plans (and sneakpeeks, once I actually make some of the stopmotion), Texas Trip Pics, and so much more!
See you in the next post!
Love,

AKA

P.S. If you liked this post, let me know! Just hit "like" a leave a comment below. Oh, and would you tell me which signature you like better? Madison, Madi, or maybe Madison with a swirl as well?
P.P.S. Check out Lucky and Samantha's fabulous giveaways!