Madi here! Has it been a while or WHAT?! Lemme tell ya, guys: never forsake healthy eating, proper rest (I mean it), and exercise.
Because I'm paying for it big time! It's been almost two years since this whole break thing, and to say I'm mad at myself would be the understatement of fifty billion lifetimes.
So I'm not back to blogging full-time yet. But I am getting better, even if it's at this infuriatingly slow rate I can't seem to speed up. In fact, sometimes I'll post something just for fun at my new personal blog, Adventure in the Air.
And I want to thank you so much for your prayers! Jesus has been nothing but good, and I'll say it again that He did not make me sick. I made me sick. XD
I also want to say again that I will never permanently stop blogging on this blog. I have not given up on DWOD, no matter how long I'm away. There's not a day that goes by that I don't wish I was working on all my projects—my blogs and my writing—with all of my heart.
But until we're there, I do have this photoshoot of Taryn to give you. Without further ado!
Is it weird to be super proud of the grass blur in this photo?
Taryn couldn't focus on her schoolwork one day inside, so she decided to find a solution. Which included getting out her bike.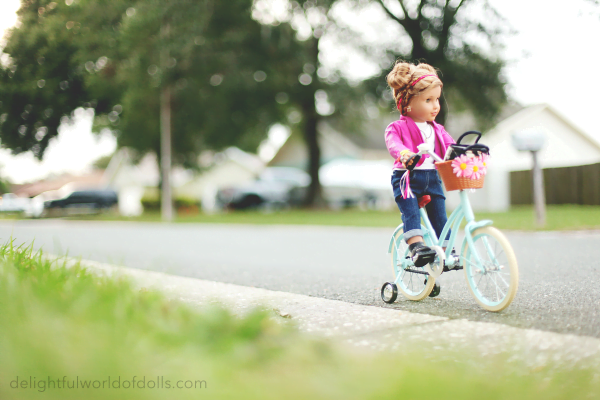 I wonder where she's going!
Looks like she's ridden all the way across our backyard. That's a long way to walk for a doll! Glad she took the bike.
I see where she's headed!
Taryn carefully leans her bike against the fence.
That's her shoulder bag she's getting out of her bike basket.
Is her outfit not the cutest thing ever? I think this is the City Sights Jacket I bought with AG Rewards points in October 2018. It paired well with the braided hairband from Lea's accessories.
I'm pretty sure those skinny jeans are off Etsy, the boots and necklace are also from Etsy, and the tank top is actually from Journey Girls.
Taryn looks glad as she climbs around to find a good spot to work.
Looks like she found herself a little naturey desk!
I don't blame her. It's really fun to do your schoolwork outside sometimes.
Best way to focus if you ask me? Plug in those headphones. ?
I miss you guys so much. I would give anything to be able to work on the desires of my heart like I used to. But until I get there…
Please take the time to comment below and let me know how you and your dolls have been!
I'd love to chat; I respond to every comment!
Have you gotten any new dolls? Lost interest in dolls? Did you see AG's new unicorn and purple hair colors? I used to not be a fan of unnaturally died hair, but honestly now I think it looks really cute!
I've considered getting a doll with that unicorn hair. Not entirely sure how it works, though—it's for the CYO dolls, right? So you can put it with any combination you'd like? Or is it just for certain dolls?