THIS GIVEAWAY IS ENDED.
IT'S THAT TIME AGAIN!
(Feel free to scroll down if you just want to see the giveaway!)
Nine years ago on November 4, 2012, I made my very first blog post.
It was on a small, free little blog called delightfulworldofdolls.blogspot.com.
Me and Molly, January 2012
I was only nine years old, so my dad wasn't really down with the idea of me having a blog and wasn't going to allow it at first. He later told me that God spoke to him and said "let her have a blog."
I had no idea that DWOD would grow to be what it is today!
But I always knew that it would still be here even nine years later.
Me and Jasmine, July 2013
I had already decided I would not grow out of dolls or out of blogging. That I wouldn't be like bloggers I had seen who grew out of dolls or disappeared off the face of the internet.
That I would blog for as long as physically possible, and only stop when my schedule absolutely, positively could not handle it—probably many years in the future, I imagined, when I'd be too busy with my future family.
I was right! All these years later, DWOD is still here, and still going strong!
Even three years ago when I had to stop posting consistently due to chronic health issues, I knew that was not the end. You could not convince me otherwise.
I was away for longer than I had ever dreamed or planned, but I always knew that I would return. It was not a possibility—it was a decision set in stone. Of the hardest diamond rock.
By sheer force of will, I would return to this passion of mine no matter how hard it was (and I did).
I remember my dad telling me two months before my return that he felt like I had not seen everything DWOD was capable of yet.
That came as a surprise to me—I thought the grand ol' days of this bussin' blog were over, it had kind of hit its peak, and I'd be back just for nostalgia's sake. After all, my viewership had tanked in the three years I was away, and aside from a post here or two to remind my beloved readers I was not dead and just recovering, it looked like a ghost town.
But when I came back I was overwhelmed by the amount of support. This blog's days are not over—and I think we will see the best is yet to come.
The craziest thing about this anniversary is that it is the nine-year mark.
I started this blog when I was nine, so that means I have had this blog for HALF OF MY ENTIRE LIFE.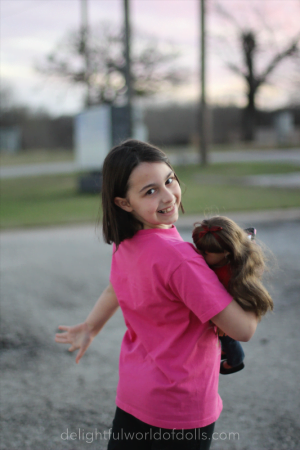 Me and Molly, February 2013
Which is honestly insane to think about, but when I look back at the past nine years of my life, it's been the perfect ingredient.
Call me dramatic (I am ?) but this blog feels like less of a hobby and more like a legacy. ♥
This blog created some of the most special and best times of my life, and was a light getting me through the worst.
It grew my love of writing and provided many opportunities (over 803 posts!) to polish my skills leading me to now pursue writing as a full-time career.
And it introduced me to all of YOU, who have become some of my very best online friends.
Yesterday I watched more comments come in on my recent post and my heart just swelled with gratitude. I love meeting you and talking with all of you about this love of dolls we share together and I hope it never stops.
You make my world so fun and my heart so full!
Some fun site stats:
TO CELEBRATE… I want to say thank you—to all of you reading this, whether you're a long-time reader or brand new—with a holiday giveaway!
And I want to give a HUGE thanks to the Etsy shop DollsuCraft (Instagram account here) for partnering and providing a ton of the goodies below!
Thank you also to my wonderful dad who has always been my biggest supporter and has sponsored the shipping for this giveaway so it is open internationally and can be shipped anywhere!
↓ ENTER HERE (the form will load below, but it may take a minute to pop up!)
THIS GIVEAWAY IS CLOSED AND THE FORM HAS BEEN REMOVED.
Be sure to read the rules first, definitely engage in some of those bonus entry options and comment below (or email me at madigrace@powerofgod.com) if you have any questions!
I love you all so much and all thanks and glory to God for making this blog happen,

Madi and Delaney, August 2021
Del couldn't NOT show up for such a celebratory post. She says it's DELightful World of Dolls, after all… ?