Arf, arf! Coconut, here. Boy, is it hard to type with my little paws. Isn't it nice to have the little speech-to-text thing? Can you believe is translates dog language?
Anyways, where was I? Oh, yes. Coconut here, but you knew that already. You're really smart.
Now what was I saying?
Oh yeah! Speaking of smart, I'm a really smart dog. I know how to spot a good friendship when I see one, you know. Well, I not always did – it's been a year since Snowy, Ellie's polar bear pet who is secretly alive, has been with us, and I'm just now getting a chance to get to know him.
It all started one night when I was just dozing off. The dolls were getting ready for bed and I was warm and cozy in my doggie bed.
But wait! All was not right! My highly sensitive doggie ears heard something the doll's ears could not. It was a sound coming from the kitchen!
A dog's gotta do what a dog's gotta do. I lept up and sped towards the kitchen. This didn't sound ordinary!
When I arrived, my doggie jaw dropped almost to the floor!
There was a polar bear digging in our freezer!
My surprise could not have been greater. That was Snowy – Ellie's stuffed animal! He was alive?!
Then it hit me – oh, yes. I remember. I met him when Jocelyn and I were solving a mystery. He was alive!
I marched right over to him and demanded, "Excuse me! What are you doing in there?"
Snowy looked up. "Oh, hello! Who are you? Have we met before?"
"Coconut," I responded. "And yes, we have met before, but that was a year ago. Now do you mind telling me just what you're doing in there?"
Snowy didn't reply. Instad, he buried his face back in the freezer and jumped out with a package of some sort.
A package that smelled delicious.
"I dunno what this says, but it smells good," Snowy grinned. "Wanna share it?"
It was hard to respond back. My mouth was watering.
I licked my chops. Slurp.
I watched him dive face-first into the package after pawing it open. Beef patties! I finally identified the smell.
But what would the dolls have to say about this?
"I can't," I mumbled. I'd get in so much trouble if they knew!
Snowy popped his head up only briefly to ask, "Why aren't you eating any? Don't you like beef?"
My mouth was watering horribly. I licked and slurped and stared at the beef package. I tried to reason with myself.
Well, the beef will probably spoil anyways, it's most likely close to the due date. And nobody wants grilled hamburgers anyways, I mean, they're all crazy about hotdogs now. So I'd really just be doing them a favor. It's what good pets do…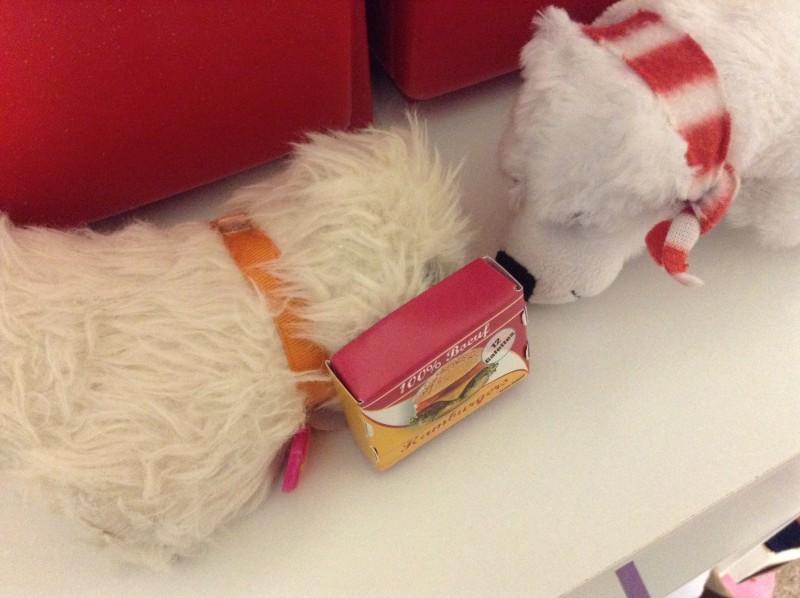 "Move over, Snowy! I want some!"
When we were finished, we carefully hid every last trace of evidence in the drawer underneath the oven. Heh, heh. Nobody will find it there… Hopefully.
"That was fun! Thanks for sharing with me!" Snowy told me once we had hid the empty package. He wrapped his tiny, furry little paws around me in a hug.
He was a nice fellow, and not to mention, a good friend already. It was good to have a friend that was your size… I couldn't help but liking this guy. He was funny, had a good personality, and liked to adventure, just like me. He would make a good friend.
And so Snowy and I became friends! All because of some delicious, mouthwatering beef. Surely the dolls will think that's an honorable cause, eating some beef and making a friend, won't they? I mean, hopefully they never find out, but you never know.
Until then, this is Coconut the wonderful tomboy dog that hates bows, but you already knew that, signing off!
⇔ Coco ⇔
(Those are doggie bone symbols)