Hang on to Hope
Season 1, Part 3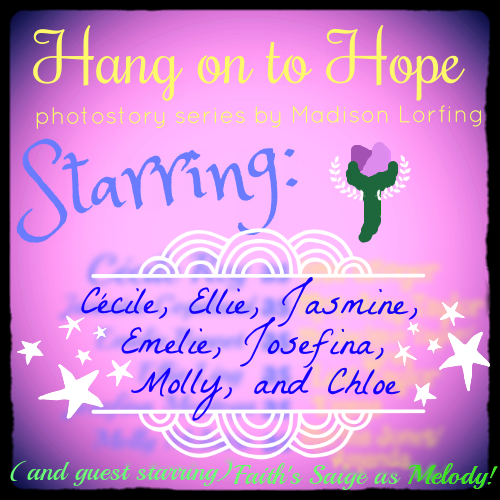 "This is your room, you have the best one in my opinion," Amy told me once we were upstairs.
"Take a look at the bedspread," I snorted to myself. "Soooo 70's."
I saw Amy and Jackson look at each other uneasily.
"Well, um, you can unpack your things in the drawers and hang out until…supper," Amy quietly spoke.
Then they left.
I plopped my bag on the bed and took a look around. It was a rather pretty area, with a bedside table with a drawer in it, a Chinese lantern looking light hanging from the ceiling, and of course the bed. It was a bright shade of yellow, with a double-sided bedspread. It looked old – older than 70's. My guess is that is was some great grandmother's quilt passed down from generation to generation.
Overall, it was a nice room.
I sat on my bed after putting a few things in the drawer, browsing around on my phone.
Then I stuck some headphones in my old mP3 player, and calmed down with a few instrumental pieces.
(Here's what I listened to – it's called Full of Inspiration.)
"Issa, time for supper!" Amy called sometime later, coming into my room.
"P.U.! What is that smell?!" I exclaimed, pinching my nose.
"It's steamed broccoli…" Amy answered, rosy red color coming to her cheeks.
"Oh my gosh, I think my nose is clogged. Ew ew ew ew ewwwwwwwwwwwww…….I have a sinus infection……My NOSE IS IN AGONY!!!!!"
"Issa, there's no call for such words!"
"Says who?"
"…Wash up in the bathroom. Come to supper quickly." Amy left the room in disgust.
I knew it. I'm getting kicked out of here.
To be continued.