Hello, fans! It's Jaz here! Madison curled my hair nicely the other day and just had to take me outside to take pictures. But it was raining! (Darn this Florida weather!)
I insisted that we do it anyways, and said that an umbrella would be a cute prop. After much time spent persuading her, she finally agreed. So without further ado, here are the lovely photos!
Here is my hair being curled.
Madison taking out the bobby pins…
Oh, gosh! Don't I look so gorgeous!? My hair is totally perfect!
Madison said it needed an accessory, but I told her I looked like a hippie with this on. She finally took my advice and clipped a section of my curl back simply.
She also agreed that the umbrella did make a cute prop!
Ugh, I don't know what happened! The pictures were crystal clear and focused BEAUTIFULLY when Madison took them…now look how fuzzy they are! We had to delete more than half of the photo shoot! >:-( >:-( >:-(
See the gorgeous clip?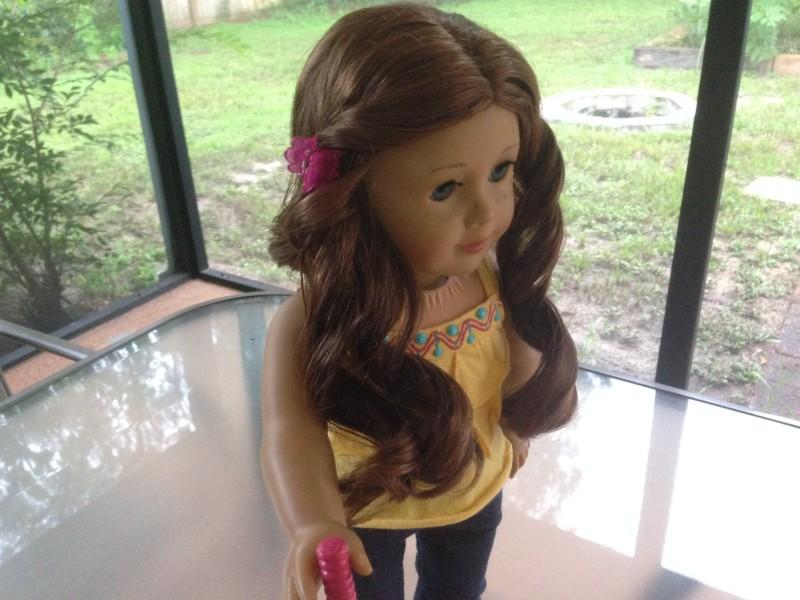 SPLAT! The doll umbrella really works.
I got very wet during this photoshoot. It was…dangerous. But. I did it. Because…I am….FABULOUS.
Looking about the rainy world….
Well, that just about wraps my beautiful photoshoot up.
Which picture was your favorite?
Love,
Jazzy Jasmine