Whoop whoop! Today starts my Christmas break.
Not that I'll be taking a break from anything but school. Both my blogs and novel prep aren't slowing down anytime soon! >:) Pedal to the metal, folks. That's how we roll here.
I'm so glad you came today! Because I have this super sweet third and final part to The Secret Santa Disaster I hope you'll enjoy.
A quick refresher from part 2:
I turn to Jasmine, and she gasps. I blush. I haven't cried in months. Here comes the teasing.

But Jasmine furrows her eyebrows and pulls out a tissue. "Why don't you tell me what's wrong?"
---
I sniff, embarrassed, and accept the tissue from her. "Sure. Whatever."
Jasmine drops to the floor and crosses her legs, leaning back casually. "What's making you so sad?"
I sit down next to her and swipe the tissue over my eyes. "Katy's spider bite is all my fault."
Jazzy furrows her eyebrows. "How is her spider bite your fault?"
Jasmine is never going to forgive me. I clutch the tissue tighter. "I saw it earlier and should have killed it. Katy never would've gotten bitten had I taken care of it right away."
"Aw, Del." Jasmine smiles. "It's okay. She's getting great care at the hospital, don't you worry. But why'd you leave the spider alive?" She giggles. "You'd jump at the chance to be violent."
I clench the tissue in my fist. "I kept it alive because I drew your name for the gift exchange… and wanted to give it to you as a present. Before I knew it was poisonous."
Jasmine's jaw drops, and I quickly look away. But Jasmine just laughs a little. "Oh, Del. That's so hilarious. It'd be so funny."
Wait, what? I look back at her. "It would've been mean."
"My face would've been so silly! Everyone would've laughed so hard. But I'm glad it's dead now, since it was poisonous."
Why have I been such a jerk to her? I smile. She's not mad at all. "I knew it was poisonous when it bit me, then realized it wouldn't have made a good gift after all."
Jasmine shrieks. "It bit you?! Today?"
"Just on my arm—"
Jasmine reaches over me and flails to get to my arm. "Let me see! Have you been to the hospital?!"
"No—"
Jasmine freaks out and pulls me to my feet, pushing me to the door. "We're going to hospital right now!"
---
To be continued… in The Secret Santa Disaster, Part 4!
.
.
.
.
.
.
.
.
.
.
.
.
.
.
.
.
.
.
.
.
.
.
.
.
.
.
.
.
JUST KIDDING.
When I return from the hospital, Katy has beat me back. I'm not usually the one to sit around and do nothing, but I'm so whoozy from the nausea, venom, and anti-venom shot they gave me (in my bottom, no less) that all I feel like doing is sitting in front of the fire with a cup of cocoa.
I grumpily sit next to Katy without a word and demandingly grab half of her blanket and spread it over me. I then proceed to locate an empty cup and pour half of her hot chocolate into it.
After a long, slow sip, I finally turn my head to look over at her. "Hey."
K.C. smiles brightly at me. "What's up?" Then she smirks. "And by the way, I backwashed into the cocoa."
"No you didn't."
"You don't know that."
I let out a deep sigh and look at the flickering flames. "I just wanted to say sorry."
"For what?"
"Your spider bite was all my fault. I found it and tried to capture it to give to Jasmine as a present for the gift exchange."
Katy falls silent for a few moments, then smiles again. "It's okay. No harm done."
"No harm done? We both got bitten! We could've died!"
K.C. wraps a weak arm around me. "We both survived black widow spider bites. That's pretty epic, wouldn't you say?"
I look down at my cocoa. "I feel like an idiot. I could've died. You could've died. I almost killed Jasmine!"
Katy just grins. "Another one of your near-death experiences."
Then she raises her cup of hot chocolate. "To your epicness."
I shake my head. "No."
"No?"
I smile and with a wobbly hand raise my mug to meet Katy's.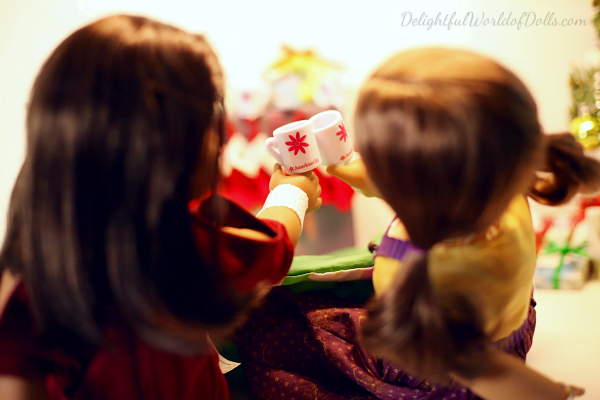 "To our epicness."
Katy smiles. "Yeah, to our epicness. And to an epic Christmas."
---
THEEEE END.
Okay, that series just failed on me. XD I adored the first part probably a little too much, but then the second and third parts were all ?
I wanted to do a clever little Jesus-is-the-real-Reason-for-the-season twist, but the series wasn't headed that direction. XD
Do you ever have posts that turn out to be complete bombs? What have you learned from them? What would you have liked about The Secret Santa Disaster better?
Don't forget to check back on Friday for my last Christmas Craft Collab tutorial, and then on Saturday for Light4theLord's!